MHI Adds 6 Models to Inverter Built-in "ETI Series" Centrifugal Chillers,
Expanding Cooling Capacity Range up to 700 RT
- Move Aimed at Further Market Adoption of Inverter Built-in Models -
Tokyo, May 24, 2011 - Mitsubishi Heavy Industries, Ltd. (MHI) has added six new models, with cooling capacities ranging from 250 to 700 refrigeration tons*1 (RT), to the company's "ETI Series" of inverter built-in two-stage centrifugal chillers. Marketing of three models in the 250 to 350 RT range begins today; the three other models, with capacities between 500 and 700 RT, will be launched in September. With the introduction of the new models, MHI aims for increased adoption of inverter built-in chillers, which contribute to promoting energy savings in the air-conditioning market through their high efficiency. The new offerings also expand the cooling capacity range of the series, which starts at 150 RT, up to 700 RT, with 11 models in total.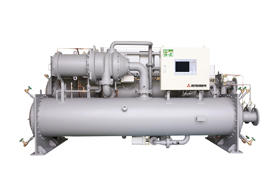 All models in the ETI Series achieve a rated COP (coefficient of performance)*2 of 6.1, IPLV (integrated part load value)*3 of 10.2 and a part load COP of 23.8 at maximum, the highest levels of energy-saving capability in their class. Use of ETI Series units reduces annual electricity consumption by 60% compared with earlier models*4. All models use HFC-134a, a chlorine-free and zero ozone depletion potential (ODP) refrigerant.

In the ETI Series, minimization of installation space has been achieved by integrating the chiller main unit and the inverter unit into one configuration. With the newly added 700 RT model, installation space has been reduced by 40% compared with the company's constant-speed-drive chillers*5.

MHI launched the ETI Series in 2008 with models featuring cooling capacities from 150 to 500 RT. In response to steady expansion of the market for chillers with built-in inverters - more than 60% of orders to MHI last year were for inverter models - MHI opted to extend the cooling capacity range to enable further expansion of its customer segment.

In the wake of the Great East Japan Earthquake in March, concerns have risen about long-term electricity shortages, especially in the area centered on Tokyo. As a result, awareness has heightened rapidly toward the need for higher efficiency in power consumption as well as for less consumption itself. With the latest expansion of the ETI Series lineup, MHI now plans to accelerate its marketing activities promoting the adoption of inverter built-in centrifugal chillers in applications involving air-conditioning of office buildings and factory plants, in addition to promoting replacements to machines that offer higher efficiency.
Notes:  
1)  Refrigeration ton represents the refrigerating capacity for turning 2000 lb of 0°C water into 0°C  ice in 24 hours.
     1 RT = 3,024 Kcal/hr.
2)  Coefficient of performance (COP) indicates the ratio of a system's useful energy output versus
     the system's energy input. The higher a system's COP, the higher is its energy-saving efficiency.
     In the case of refrigeration systems, COP = rated cooling capacity (kW) / electricity consumption (kW).
3)  The integrated part load value (IPLV) rating system was developed by the Air-Conditioning, Heating
     and Refrigeration Institute (AHRI) of the U.S. IPLV measures the efficiency of air-conditioners
     under a variety of conditions: several partial operational load ratios and coolant water temperatures
     similar to those in actual usage, to reflect seasonal changes in operational conditions. As with COP,
     the higher the IPLV rating, the higher is the energy-saving efficiency.
4)  Compared with MHI's ART Series of constant-speed-drive chillers of 15 years ago. Comparisons are
     based on general air-conditioning load.
5)  Compared with MHI's currently marketed AART Series of constant-speed-drive chillers.
[BUSINESS CONTACT]
Air-Conditioning & Refrigeration Systems Centrifugal & Absorption Chiller Department
Mitsubishi Heavy Industries Air-Conditioning & Refrigeration Systems Corporarion
Products Page
---
About MHI Group
Mitsubishi Heavy Industries (MHI) Group is one of the world's leading industrial groups, spanning energy, smart infrastructure, industrial machinery, aerospace and defense. MHI Group combines cutting-edge technology with deep experience to deliver innovative, integrated solutions that help to realize a carbon neutral world, improve the quality of life and ensure a safer world. For more information, please visit www.mhi.com or follow our insights and stories on spectra.mhi.com.