MHI Develops "MV80" Vertical Machining Center for Long Workpieces,
Primarily Targeting Machining Shops Making Parts and Metallic Molds
For Aircraft and Power Generation Equipment
Tokyo, March 24, 2011 - Mitsubishi Heavy Industries, Ltd. (MHI) has developed a vertical machining center, the "MV80," suitable for machining of long workpieces. In the development process, the MV80 was designed to be as compact as possible, addressing user needs; tables of standard machining centers do not provide enough space to work on long workpieces, while plano-type machining centers are too big to permit easy use. In order to accommodate customer needs as much as possible, the company will offer a variety of MV80 models so that users will be able to select the model matching their specific requirements. The company has launched machine's full-scale marketing, primarily targeting factory shops that perform machining of parts and metallic molds for aircraft and power generation equipment.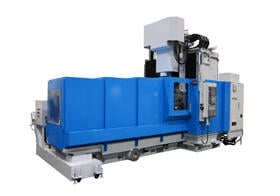 The MV80 model with the largest table space provides a table working area of 3,000 millimeters (mm) in length and 800 mm in width, with a maximum load capacity of 3,000 kilograms. MV80's 3,000 mm-long compact design also facilitates machine layout within the shop.

Depending on the length and height of their workpieces, as well as desired spindle speed, users will be able to select the most suitable machine among three different table types and two spindle speed options: one with a spindle speed of 6,000 revolutions per minute (rpm), and the other with a 20,000 rpm spindle speed that is suitable for machining of metallic molds. For tall workpieces, a model will be available with 1,030 mm height clearance (between table and main spindle); the column of the gantry is 250 mm higher than that of other models. Users can select a table size of either 2,500 mm (X-axis stroke: 2,700 mm) or 3,000 mm (X-axis stroke: 3,200 mm). Also, by selecting the optional numerical control (NC) circular table, combined machining can be performed.

The body of the MV80 adopts a cast structure with vibration absorption capability. Other central considerations in developing the machine were ease of operability, for which the MV80 is equipped with a cam-type high-speed automatic tool changer (ATC), and concentration of maintenance points to one convenient location. The machine also incorporates various technological expertise accumulated by MHI in its development and manufacture of machining centers and plano miller machines.

MHI's machine tools are frequently used in various applications both in-house and by company suppliers, and feedback of the detailed needs of these shops has been reflected in the MV80's development. Many suggestions arising the company's operations in aerospace, power systems, and mass- and medium-lot manufactured machinery have been incorporated.

With the introduction of the MV80 going forward, MHI will now ratchet up its activities for expanding its customer base by proactively exploring demand for long workpiece machining equipment.
---
About MHI Group
Mitsubishi Heavy Industries (MHI) Group is one of the world's leading industrial groups, spanning energy, smart infrastructure, industrial machinery, aerospace and defense. MHI Group combines cutting-edge technology with deep experience to deliver innovative, integrated solutions that help to realize a carbon neutral world, improve the quality of life and ensure a safer world. For more information, please visit www.mhi.com or follow our insights and stories on spectra.mhi.com.