MHI Receives Order for 14 Centrifugal Chillers from Qatar
For "Heart of Doha" Development and Regeneration Project
-- Total Cooling Capacity of 29,300 Refrigeration Tons --
Tokyo, March 10, 2011 - Mitsubishi Heavy Industries, Ltd. (MHI) has received an order for 14 large-size centrifugal chillers, with a total cooling capacity of 29,300 refrigeration tons*1 (RT), for a large-scale district cooling system for "Heart of Doha," a development and regeneration project to transform the old downtown area of Doha, the capital of Qatar. Delivery of the 14 chillers will begin in June this year and be completed in the summer of 2012. The event marks the first centrifugal chiller order placed to MHI for delivery to Qatar. MHI believes the order resulted from Qatar's recognition of the company's world-leading level of refrigeration efficiency and environmental friendliness of its chillers.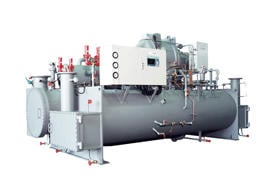 The Heart of Doha project aims to develop and revitalize a 35-hectare site in front of the Royal Palace of Qatar into an area that will comprehensively encompass public offices, hotels, high-quality commercial facilities and residential zones. The project is being carried out by Dohaland, an organization established by the Qatar Foundation for Education, Science and Community Development in 2007.

The 14 units of MHI's "AART-200EX" chillers on order will be delivered through Drake & Scull Water and Power LLC (DSWP), the engineering, procurement and construction (EPC) contractor of the Heart of Doha project headquartered in the United Arab Emirates. The chillers will be installed in two locations - eight and six units, respectively - to provide district cooling from two points.

The AART-200EX achieves the world 's highest level of rated COP (coefficient of performance)*2, 6.4*3, and uses HFC-134a, a chlorine-free and zero ozone depletion potential (ODP) refrigerant. Dohaland is targeting the project to achieve "Platinum," the highest rating in LEED (Leadership in Energy and Environmental Design) certification, which is a rating standard devised by the U.S. Green Building Council for environmentally friendly buildings; it opted for MHI's centrifugal chillers in view of their significant energy saving and environmental friendliness.

Qatar has been promoting diversification of its industries in a quest to depart from heavy dependence on oil and natural gas and focus efforts on cultural, educational and broadcasting fields. Also, having been selected to serve as host country for the FIFA World Cup in 2022, the country is now undergoing a boom in construction of various large facilities. This activity is expected to fuel demand for air-conditioning systems over the medium and long term.

MHI is Japan's largest centrifugal chiller manufacturer, and it has supplied many systems for applications including district cooling and air-conditioning for plants and office/commercial buildings. To date the company has received orders for 2,000 units of its HFC-134a refrigerant type centrifugal chillers. Deliveries overseas are on the rise. Going forward MHI will further strengthen its service structure in the Middle East and conduct vigorous marketing activities in the region for its large-size, high-efficiency centrifugal chillers.

Notes:
1)Refrigeration ton represents refrigerating capacity for turning 2000 lb of 0°Cwater into 0°C ice in 24 hours. 1 RT = 3,024 kcal/hr.
2)Coefficient of performance (COP) indicates the ratio of a system's useful energy output to its energy input. The higher a system's COP, the higher is its energy-saving efficiency. In the case of refrigeration systems, COP = rated cooling capacity (kW) / electricity consumption (kW).
3)COP 6.4 was achieved under JIS (Japanese Industrial Standards) conditions:Chilled water - entering: 12°C, exiting: 7°C
---
About MHI Group
Mitsubishi Heavy Industries (MHI) Group is one of the world's leading industrial groups, spanning energy, smart infrastructure, industrial machinery, aerospace and defense. MHI Group combines cutting-edge technology with deep experience to deliver innovative, integrated solutions that help to realize a carbon neutral world, improve the quality of life and ensure a safer world. For more information, please visit www.mhi.com or follow our insights and stories on spectra.mhi.com.