MHI Develops "ZE40A" Universal Gear Grinding Machine
Ideal for Production of Wide Variety of Gears in Small Lots
- Accommodates Both Generating and Profile Grinding, also Bias Modification -
Tokyo, January 20, 2011 - Mitsubishi Heavy Industries, Ltd. (MHI) has developed a universal gear grinding machine, the "ZE40A," which is capable of high-precision machining of various sizes of gears up to 600 millimeters (mm) in diameter. The new machine will be presented at "MHI Machine Tools Fair 2011," a private preview show of gear machines to be held by the company's Machine Tool Division on January 27 and 28 in Ritto, Shiga Prefecture. Marketing of the ZE40A is scheduled to begin by month's end. The new machine can accommodate both generating grinding*1 and profile grinding*2 and also enables modification of biased flank shapes, i.e. tooth surface torsion. The Division will explore demand for the new machine primarily targeting job shops that produce a wide variety of gears in small lots.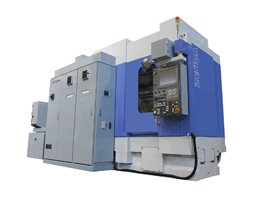 The ZE40A, a 9-axis, fully automated numerical control (NC) machine, was developed aiming at the following features:

- high-precision machining of a broad variety of workpieces
- easy setup changes, in order to accommodate small-lot production of
various gear types
- easy and simple operation and maintenance, to permit use by non-skilled
operators
- compact size, for reduced installation space

The new machine has achieved smooth revolution of the main (grinding) spindle and table spindle through adoption of a direct-drive system employing built-in motors to eliminate vibration from reducers. In the dressing unit, which functions to maintain the shape and sharpness of the grinding device, torsion angle adjustment is automated by NC. The installation space required for the ZE40A, 3,750 mm in width and 4,000 mm in depth, marks a 15% reduction even compared with the ZE15 and 24A models for smaller workpiece machining, achieved by slashing the size of the coolant device and rearranging the hydraulic and pneumatic devices.

While the maximum external gear diameter of workpieces is 400 mm for high-efficiency machining by the ZE40A, the machine can actually accommodate up to 600 mm diameter workpieces when machining requirements are stepped down, thanks to the wide space secured around its workpiece table. The ZE40A is able to machine gears with between 0.5 and 8 modules*3. Users can set the desired gear shape, in either generating grinding or profile grinding mode, by inputting NC data. In the case of helical gear machining, it is possible to modify bias generated during crowning, which is a machining process for making the center of a gear tooth thick in order to concentrate contact of two gear teeth at the center.

The ZE40A is equipped with software which enables highly accurate post heat treatment gear grinding processing and facilitates precise machining as desired from the very first workpiece. Tooth meshing jobs between the grinding wheel and the dresser device, as well as between the grinding wheel and the workpiece, are also automated. In addition, work to change workpieces, grinding wheels and tools as well as setup changes can be easily performed thanks to enhanced accessibility to the workpiece table. On the control board, a large-screen color graphic panel is adopted to provide enhanced operability. On the machine status display screen, warning indication of irregular operation also shows the content of the irregularity and the necessary countermeasures, enabling initial diagnosis as well as easier maintenance work.

Since developing the world's first dry-cutting gear production system using no cutting fluid in 1997, MHI has led the industry with its diverse gear cutting machines and cutting tools featuring high performance and accuracy while simultaneously addressing global environmental issues. With the addition of the ZE40A universal-purpose gear grinding machine to its product portfolio, the company will now further boost marketing activities in a quest to expand users of its gear cutting machines.


Notes:
1.Generating grinding is a grinding process for generating a tooth profile applying the relative movement of the workpiece and a grinding wheel not having an involute curve shape.
2.Profile grinding is a grinding process to adjust tooth shape using a tooth-shaped grinding wheel.
3.Module is the unit used to indicate gear size. Module = pitch circle diameter (in millimeters) divided by number of teeth.
Major Specifications of ZE40A Universal Gear Grinding Machine
Maximum workpiece diameter: φ400 millimeters (mm), (Max 600)  
Maximum modules:    8
Maximum hob size (diameter x length):   φ220 – 300 mm x 125 mm
Grinding wheel speed:   6,000 revolutions per minute (rpm)
Rated output of grinding wheel motor:   25 kilowatts (kW)
Axial stroke:   400 mm
Radial stroke:  570 mm
Floor space (width x depth):    3,750 x 4,000 mm
Machine weight: 12,000 kilograms (kg)
Products Page
---