MHI Develops Heat Pump Water Heater
For Commercial Use in Ambient Down to -25°C
Featuring the World's First CO2 Refrigerant "Scrotary" 2-stage Compressor
Tokyo, January 12, 2011 - Mitsubishi Heavy Industries, Ltd. (MHI) has developed a heat pump water heater which features the NEW CO2 scroll-rotary two stage compressor for commercial use - the ESA30. Dubbed the "Q-ton,"this new system can maintain rated heating output in outdoor temperatures down to -7°C(19°F). This new model can also operate in outdoor conditions down to -25°C (-13°F), while maintaining a moderate seasonal (spring/autumn) COP (coefficient of performance) of 4.3, the industry's highest efficiency rating in the 30 kilowatt (kW) class.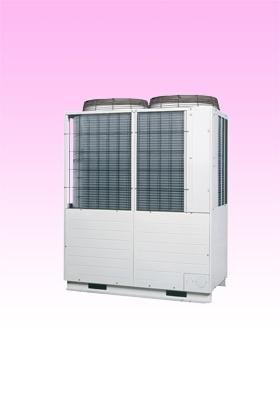 Adopting the world's first CO2 refrigerant two-stage type "scrotary" compressor - the heart of the ESA30, the heat pump is capable of operating in extremely cold regions with outdoor temperatures as low as -25°C, another world's first. Going forward, MHI will aggressively market the ESA30 as a strategic product which will lead the way to expand the use of heat pump water heaters in cold weather regions.

In conventional heat pump water heaters, the heating output and COP value reduces dramatically under low outdoor temperature conditions. As a result, the introduction of heat pumps in cold weather regions has been limited. The ESA30 is the world's first heat pump to overcome these obstacles with its capability not only to maintain rated heating output at outdoor conditions of -7°C (19°F) but also to heat water up to 90°C (194°F) in an extremely cold outdoor condition of -25°C(-13°F). The ESA30 has now made it possible to introduce heat pump water heaters throughout most regions of the world.

The technology of the heat pump which enables these outstanding features is MHI's world's first "scrotary" two-stage compressor, which combines scroll technology and rotary technology to deliver high efficiency at high and low-pressure ratios, respectively. The integration of two compression cycles has produced high efficiency under every operating condition, while concurrently achieving enhanced performance and reliability by reducing the pressure gap. Through the introduction of a gas injection system in the medium-pressure housing, MHI has increased the circulating volume of the refrigerant and succeeded in maintaining outstanding performance even under low outdoor temperatures.

In terms of hot water supply capacity, the ESA30 supports connection of multiple installations and the control up to 16 units. ESA30 is also capable of supplying up to 120 tons of hot water at 60°C (140°F), which dramatically reduces the power input required for the hot-water supply of large facilities. The ESA30 can also operate with high-temperature entering water at 63°C (145°F) and can be used in facilities which circulate very hot water.

The ESA30 has an easy operation, touch screen controller. The operator can quickly and simply not only set its weekly schedule with the operation timer but also evaluate the remaining amount of hot water with the useful graphic display. The heat pump water heater can also be used in conjunction with in-house remote monitoring systems and is capable of failure prognosis as well as providing information on preventive maintenance.

As part of their Low Carbon initiative, MHI has been pursuing the expansion of heat pump business by developing more energy efficient heating solutions. Going forward, the company intend to develop the "Q-ton" as a core product in their Heat Pump portfolio. Along with waste heat-recovery type industry-use heat pumps and home-use heat pumps, MHI now has a wide range of hot/warm water supply heat pumps with heating capacity from 8 to 627 kW and is capable to accommodate an increasing variety of needs from customers.

To promote the ESA30 commercial-use heat pump water heater, MHI will conduct aggressive marketing activities, primarily targeting restaurants, supermarkets, nursing care facilities and hotels. The company has been conducting verification tests under cold weather conditions in northern regions of Japan since late last 2010. Initially tests started in eastern Hokkaido with cooperation from Hokkaido Electric Power Co., Inc. and subsequently in other northern regions of Japan.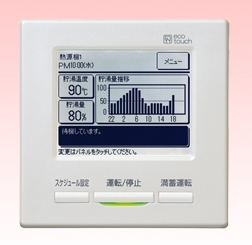 ["Eco-touch" remote controller]
[BUSINESS CONTACT]
Heat Pump Business Development
Air-Conditioning & Refrigeration Systems Headquarters
Tel: +813-6716-4199, Fax: +813-6716-5855
---
About MHI Group
Mitsubishi Heavy Industries (MHI) Group is one of the world's leading industrial groups, spanning energy, smart infrastructure, industrial machinery, aerospace and defense. MHI Group combines cutting-edge technology with deep experience to deliver innovative, integrated solutions that help to realize a carbon neutral world, improve the quality of life and ensure a safer world. For more information, please visit www.mhi.com or follow our insights and stories on spectra.mhi.com.