MHI to Market Three New Gasoline Engines:
Two Light-weight Models in "TLE Series" and 7.0 PS Model in "GB" Series
-- Lineup Meeting All Emission Controls Now Completed --
Tokyo, October 21, 2010 - Mitsubishi Heavy Industries, Ltd. (MHI) will begin marketing three new models in its "Mitsubishi Meiki Engine" lineup of single-cylinder multipurpose gasoline engines in January 2011. The engines to be added are the 2-stroke cycle "TLE24" and "TLE27," both realizing further weight reduction for the convenience of users, and the 4-stroke cycle "GB220," which has been compactly designed to enabler easier installation in agricultural equipment and other applications. All three new models can be conformed to existing Japanese, U.S. and EU emission regulations. To realize high-efficiency, low-fuel consumption engines, MHI has adopted its proprietary stratified scavenging system in the 2-stroke cycle models and a pent-roof shaped combustion chamber for the new 4-stroke model.
In developing the TLE24 with 22.5 cc (cubic centimeter) displacement and the TLE27 (25.6 cc) for the TLE Series, which is designed to satisfy stringent emission controls in the U.S., EU and elsewhere, MHI reviewed the Series' product portfolio and undertook further reductions in the weight of the small models. With the introduction of the two new offerings, the TLE Series will now consist of five models ranging from the TLE24 to the TLE48 (47.1 cc).

For the combustion system, the two new models inherit the Series' stratified scavenging system that reduces discharging of unburned air-fuel mixture gas into the air, which occurs naturally with 2-stroke engine mechanisms. With this system, TLE engines meet various U.S. emission regulations. – the Tier III regulations (in force since 2005) of CARB (California Air Resources Board), which are considered to be the most stringent in the world, the Phase III standards (launched in 2010) of the EPA (Environmental Protection Agency), the EU's Stage II exhaust emission regulations (introduced in 2008), and the Tier II voluntary emission regulations (to take effect from 2011 for handheld machines) of the Japan Land Engine Manufacturers Association (LEMA).

The two new TLE engines have achieved weight reduction by 8–11% compared with previous corresponding models, a feat enabled by reviews of various components, including the flywheel. The engines rank among the lightest 2-stroke cycle engines in their class, making for a lighter burden on the operator in prolonged use.

The fuel efficiency (fuel consumption against power output) of the two engines has also been improved, by about 35% compared with existing models in the same class not conforming to controls. Each model is available in two types: a general-purpose flange type and a clutch case built-in type, which is capable of direct connection to devices such as brush cutters. With the TLE24, a vertical variation is also available. MHI expects annual sales of the two models to reach 80,000 units collectively.

The GB220 (215 cc) with 7.0 PS (pferdestarke: metric horsepower, 1 PS = 0.7355 kW) was developed based on the existing GB180 (181cc, 6.3 PS) to accommodate the needs of users who feel that 6 PS class engines offer inadequate power and who thus seek higher power versions for mini-size cultivators and lawn mowers. MHI has successfully commercialized the GB220 by curbing increases in size or weight from the GB180 and by realizing a machine that offers easier installation in various agricultural machines while being of similar size with other industry models in the same class. With introduction of the GB220, the GB Series is now a complete lineup of seven models ranging from the GB100 (3.0 PS) to the GB400 (13.0 PS).

The pent-roof shaped combustion chamber adopted for the GB220, which provides effective intake of air-fuel mixture gas into the cylinder and is advantageous in preventing anomalous combustion, has enabled increased power output through high-compression combustion. The GB220 maintains the low-vibration, low-noise and "easy-start" features of the GB180, which has enjoyed a strong reputation in the market, and achieves top-class operating ease. To secure adequate cooling capacity, which had to be strengthened in line with enhanced power output, various measures have been taken, including adoption of a larger cooling fan and bigger air-inlet aperture.

The GB220 is capable of meeting all CARB, EPA, EU and LEMA (for non- handheld machines, introduced in 2008) emission regulations. MHI plans to provide abundant variations of the GB220 with specifications suitable for a wide array of machine applications. The company anticipates annual sales of the GB220 will reach 30,000 units.
Major Specifications of Two New Models in TLE Series
Models

TLE24

TLE27

Engine type

Stratified-scavenging, 2-stroke cycle gasoline engine

Number of cylinders, bore×stroke

(mm: millimeters)

1, 32×28

1, 33×30

Displacement (cc: cubic centimeters)

22.5

25.6

Maximum output (kW: kilowatts)

0.7 (0.95 PS: Pferde Starke)

0.8 (1.09 PS)

Dry weight (kg: kilograms)

2.4

2.5

Dimensions (mm) Length×Width×Height

153×232×235

153×235×236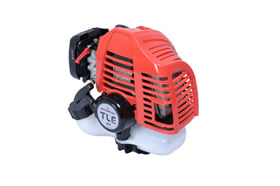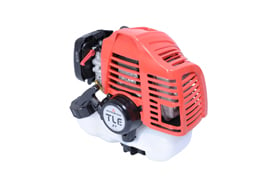 [TLE24]                                                         [TLE27]
  
Major Specifications of GB220, A New Model in GB Series
Model

GB220

Engine type

Air-cooled, 4-stroke cycle OHV gasoline engine with

slant cylinder

Number of cylinders,

bore×stroke (mm)

1, 72×53

Displacement (cc)

215

Continuous rated output (kW@rpm)

3.7@3600 (5.1 PS@3600)

Maximum output (kW)

5.1, (7.0 PS)

Maximum torque

(Nm@rpm)*

P type: 13.7@2800 (1.40 kgf-m@2800)

L type: 27.5@1400 (2.80 kgf-m@1400)

Dry weight (kg)

16.5

Dimensions (mm)

Length×Width×Height

326×365×354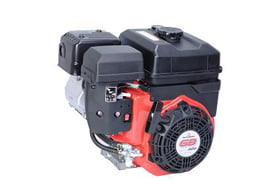 [GB220]
Notes:
Nm@rpm = Newton-meters at indicated rpm (revolutions per minute)kgf-m = kilogram force-meter
P type: Without deceleration system and direct power output from shaft
L type: With deceleration system and power output from shaft after reducing speed to a half by cam shaft
---
About MHI Group
Mitsubishi Heavy Industries (MHI) Group is one of the world's leading industrial groups, spanning energy, smart infrastructure, industrial machinery, aerospace and defense. MHI Group combines cutting-edge technology with deep experience to deliver innovative, integrated solutions that help to realize a carbon neutral world, improve the quality of life and ensure a safer world. For more information, please visit www.mhi.com or follow our insights and stories on spectra.mhi.com.