MHI Completes Delivery of 2 Replacement Steam Generators
For Southern California Edison's SONGS Unit 3
-- Units Are Among the World's Largest in Size and Weight --
Tokyo, October 4, 2010 - Mitsubishi Heavy Industries, Ltd. (MHI) has completed delivery of two replacement steam generators (RSGs) for the San Onofre Nuclear Generating Station (SONGS) of Southern California Edison (SCE), one of the largest U.S. electric utility.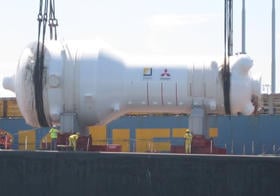 The RSGs, delivered for Unit 3, are among the world's largest, each measuring nearly seven meters (22 feet) in outer diameter and weighing 580 metric tons (641 short tons). Installation is slated to take place during a maintenance and refueling outage scheduled this autumn. Earlier, in February 2009, MHI delivered two RSGs for SONGS Unit 2. The four units delivered to SONGS bring to six the total number of RSG deliveries by MHI to U.S. utility customers.

SONGS is located in northern San Diego County, approximately 100 kilometers (60 miles) southeast of Los Angeles. Unit 3 is a 1,100 MWe (megawatts of electricity) pressurized water reactor (PWR) that went into operation in 1984. As part of SCE's plans to replace the unit's original steam generators (SGs), MHI received the order in September 2004 and began manufacturing the 20 meter (65-foot) long RSGs, each housing some 10,000 heat transfer tubes, at its Kobe Shipyard & Machinery Works.

SGs are crucial components of PWR nuclear power plants (NPP), necessary to transfer the thermal energy generated in the reactor vessel to a secondary coolant and feed the resulting steam to a turbine system to generate electricity. SGs also function as a pressure boundary to maintain primary coolant water in a high-temperature, high-pressure environment. For these reasons, manufacturing SGs requires very sophisticated and ultra-precise technology, plus an abundance of knowledge and experience related to design, welding, assembly and inspection. As a result, only a limited number of companies worldwide are capable of manufacturing SGs.

MHI's RSGs have been highly acclaimed internationally for their technology, quality and solid track record. To date the company has received orders for 31 units from overseas, mainly from North America and Europe. When SGs for new power plants and RSGs for the domestic market are included, the total reaches 125 units. By providing RSGs and other replacement components, MHI has helped extend the operational life and boost the safety and economic efficiency of existing PWR nuclear power plants both in Japan and abroad.

Going forward, as a world-leader in supplying all component needs of NPP operators, from basic planning of PWR plants to design, manufacture, inspection, installation, commissioning and services once in operation, MHI will leverage its technological expertise and excellent track record and conduct aggressive marketing of its NPP components overseas.
---
About MHI Group
Mitsubishi Heavy Industries (MHI) Group is one of the world's leading industrial groups, spanning energy, smart infrastructure, industrial machinery, aerospace and defense. MHI Group combines cutting-edge technology with deep experience to deliver innovative, integrated solutions that help to realize a carbon neutral world, improve the quality of life and ensure a safer world. For more information, please visit www.mhi.com or follow our insights and stories on spectra.mhi.com.