World's First Direct Bonding of SiC-Si and GaN-Si at Room Temperature
Achieved by MHI Bonding Machine
-- Leads Way for New Device Development --
Tokyo, July 22, 2010 - Mitsubishi Heavy Industries, Ltd. (MHI) has achieved the world's first direct bonding of silicon carbide (SiC) and gallium nitride (GaN) with silicon (Si) respectively at room temperature. The company has also been successful in the direct bonding of sapphire with Si at room temperature. Realized by a room-temperature wafer bonding machine developed by MHI which enables highly efficient, high-quality bonding of these materials, the achievement promises possibilities for various applications. MHI's room-temperature bonding machine will further facilitate and pave the way for new device development while dramatically enhancing productivity. Leveraging its "Mitsubishi Bonding Support Program (MBSP)," which supports the room-temperature wafer bonding manufacturing and product development activities of users, MHI looks to expand applications of room-temperature bonding to new fields.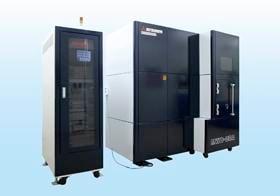 MHI's room-temperature bonding machine uses a method to bond atoms of various materials at room temperature by activating the surface of the materials with ion beam radiation in a vacuum. The machine is capable of bonding various materials, for which optimized ion beam radiation set according to characteristics of each material is a critical factor. Room-temperature bonding of SiC, GaN and sapphire with silicon were achieved through optimized precise ion radiation, respectively. For all three materials, solid and rigid bonding has been confirmed.

Due to its characteristic high-voltage durability and suitability for high-speed and high-efficiency switching, SiC has been in the spotlight for applications for next-generation power devices (power semiconductor devices), including a component of inverters for electric vehicles (EV). Application of GaN for blue light-emitting diodes (LED), as well as high-frequency wave and low-loss power devices has been growing. Sapphire, which is expanding as a material in optical devices, is also applicable as a substrate for high-frequency circuits when bonded with silicon to produce silicon on sapphire (SOS).

Eliminating the heating process required in conventional heated bonding, room-temperature bonding not only frees devices from heat stress and strain, thereby enabling rigid and highly reliable bonding, but also significantly reduces the processing time that previously included a heating/cooling cycle. With these advantages significantly shortening production time and securing a higher yield ratio, the room-temperature bonding machine realizes reductions in device production costs.

MBSP is a program to support MHI's room-temperature bonding machine users at each stage of development: conceptual design, functional prototype production, trial mass production and mass production. In implementing the program, MHI will utilize its own engineers and facilities to liaise closely with customers and provide support relating to device bonding and evaluation. The program aims not only to support the users of the bonding machine, but to promote the machine to potential users who are considering its introduction, demonstrating the machine's superior capability in new device development and production.

MHI will exhibit samples of SiC-Si, GaN-Si and SOS at "Micromachine /MEMS 2010" to take place from Wednesday, July 28, through Friday July 30, at Tokyo Big Sight in Tokyo. By promoting understanding and recognition to potential users about the advantages of MHI's room-temperature bonding machine, capable of bonding various materials and MBSP, the company intends to expand the potential application fields of the machine and further accelerate sales expansion.
---
About MHI Group
Mitsubishi Heavy Industries (MHI) Group is one of the world's leading industrial groups, spanning energy, smart infrastructure, industrial machinery, aerospace and defense. MHI Group combines cutting-edge technology with deep experience to deliver innovative, integrated solutions that help to realize a carbon neutral world, improve the quality of life and ensure a safer world. For more information, please visit www.mhi.com or follow our insights and stories on spectra.mhi.com.