MHI to Market "ZGA2000" Large-size Gear Grinding Machine:
First in Japan Enabling High-speed, High-Precision Machining
Of Up to 2 Meter Diameter Workpieces
Achieves Significant Idle Time Reduction and Enhanced Operability
Tokyo, May 24, 2010 - On May 27 Mitsubishi Heavy Industries, Ltd. (MHI) will begin full-scale marketing of the "ZGA2000," a newly developed large-size gear grinding machine enabling, for the first time in Japan, the machining of external gears of workpieces up to 2 meters in diameter. Capable of the world's top level of high-speed, high-precision machining, the ZGA2000 will significantly reduce idle time and boost operability, enabling gear manufacturers to increase their productivity. Going forward MHI will aggressively explore demand for the new machine, including for use in producing large-size gears for wind turbines and iron and steel production machinery.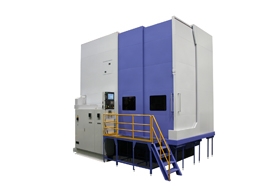 The ZGA2000 gear grinding machine comes equipped with a DD (direct drive) motor-driven turning table with capacity to hold workpieces of up to 20 tons. DD technology is also employed in the machine's grinding wheel spindle and dressing systems, which restore the correct grinding wheel profile for high efficiency and accuracy. The ZGA2000, which can machine up to 36 modules*, is available in three types - with grinding wheel vertical strokes of 700 (standard), 1,400 and 1,800 millimeters (mm); selection depends on customers' machining needs, such as gear face width, the length of the workpieces and the location of the gear in the workpieces.

The new machine comes with a new software control system with functions such as high-speed, high-precision gear measurement; excentricity compensation that measures errors of workpiece positioning on the table and sends this data back to achieve proper machining, and optimization of the machining process by estimating grinding stock of all teeth based on automatic stock dividing data. With these features, the ZGA2000 enables reduced idle time and enhanced operability.

Recently demand for high-precision, large-size gears has been increasing for applications in various machinery, including wind turbines, iron and steel production machinery, construction machinery and marine machinery. In tandem with this emerging demand, high-efficiency, high-precision and cost-effective heavy-duty gear machines are being sought globally - specifically, gear hobbing, gear shaping and gear grinding machines for processing gears with diameters larger than 1,000 mm. Responding to these needs, MHI has launched the ZGA2000 on the heels of the "GEA1200" gear hobbing machine announced earlier this month, which is capable of machining workpieces with diameters up to 1,200 mm.

Going forward MHI plans to develop and introduce models for workpieces with maximum diameters of 1,200 and 1,600 mm. The company also plans to introduce machines for internally toothed ring gears.

Spurred by the market launch of the ZGA2000 gear grinding machine and the GEA1200 gear hobbing machine, MHI now looks to introduce gear shaping machines that can accommodate up to 2,000 mm diameter workpieces. At the same time, plans call for the company to establish a new business model encompassing after-sale services, maintenance and tool supply, primarily for large-size gear machines, and to further strengthen its aggressive marketing activities in the global market.

*Module is the unit used to indicate gear size. Module = pitch circle diameter divided by number of teeth.
Major Specifications of ZGA2000 Gear Grinding Machine
Maximum workpiece diameter: φ2,000 millimeters (mm)
Maximum modules: 36
Maximum grinding wheel diameter:φ400 mm
Grinding wheel speed:   200-6,000 revolutions per minute (min-1)
Rated output of grinding wheel motor: 30 kW
Axial stroke (grinding wheel vertical stroke): 700 (1,400, 1,800) mm
Radial travel (grinding wheel horizontal travel):1,040 mm
Maximum table weight capacity:  20 tons
Floor space (width x depth):    6,350 x 8,000 mm
Machine weight: 46,000 kilograms (kg)
Note: Figures in parentheses apply with use of optional parts.
Products Page
---
About MHI Group
Mitsubishi Heavy Industries (MHI) Group is one of the world's leading industrial groups, spanning energy, smart infrastructure, industrial machinery, aerospace and defense. MHI Group combines cutting-edge technology with deep experience to deliver innovative, integrated solutions that help to realize a carbon neutral world, improve the quality of life and ensure a safer world. For more information, please visit www.mhi.com or follow our insights and stories on spectra.mhi.com.