MHI Establishes Subsidiary to Oversee Air-conditioning Business in China
-- Launch of "K" Brand and "K Point" Sales Network for Chinese Market --
Tokyo, May 6, 2010 - Mitsubishi Heavy Industries, Ltd. (MHI) has newly established Mitsubishi Heavy Industries Air-conditioners (Shanghai) Co., Ltd. (MHIAS) to comprehensively oversee the company's air-conditioning and refrigeration system (AC&R) business in China. The new company dedicated to marketing and servicing MHI's AC&R products was established by separating and making independent the AC&R operations of Mitsubishi Heavy Industries (Shanghai) Co., Ltd. (MHISH), a wholly owned MHI subsidiary. Through this initiative MHI looks to expand its market share in China by creating a business structure able to respond dynamically to local demand, which is expected to grow further ahead. A ceremony to celebrate the establishment of MHIAS will take place in Shanghai on May 8.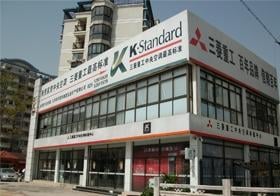 MHIAS will comprehensively handle a wide array of AC&R products ranging from commercial and residential air-conditioners to refrigeration units for tracks and trailers and centrifugal chillers. Plans call for the new company in the future to function as headquarters overseeing MHI's entire AC&R business in China.

MHIAS, capitalized at US$3 million, is wholly owned by Mitsubishi Heavy Industries (China) Co., Ltd. (MHIC), a Beijing-based company that serves as regional headquarters for all MHI business in China. Looking to more than double sales within its first two years, MHIAS will initially start with approximately 90 employees, to be increased progressively. Masahiko Arihara, Senior Vice President, General Manager of MHI's Air-Conditioning & Refrigeration Systems Headquarters, will concurrently serve as MHIAS Chairman. Ra Shomin, Vice President & General Manager of MHISH's Air-conditioner Department, has been appointed MHIAS President.
China is one of the most important markets for MHI's global AC&R business. For this reason, the company has adopted a strategy to unify its AC&R brand into one; at the same time, it has begun a review of related business with a view to the future, including reorganization of sales and service structures. Last year the company launched a new "K"* brand for its air-conditioning products in China. Meanwhile, leveraging its existing import agents and regional general agents - who deal with large contracts, primarily medium- and large-scale commercial-use multi-type air-conditioners - MHI intends to establish its own new sales network of stores ("K Points") dedicated to company products, more than 50 of which have already begun operation. Through this initiative, MHI aims to capture demand for small-scale multi-type air-conditioning units from wealthy and middle-class consumers, segments that are growing rapidly in China. MHI targets 100 stores in the first business year and over 200 within the first two years.
MHI made its full-scale entry into China's AC&R market in 1993 with the establishment of Mitsubishi Heavy Industries-Haier (Qingdao) Air-Conditioners Co., Ltd. (MHAQ), a commercial-use air-conditioner production joint venture with Haier Co., Ltd., China's largest appliance manufacturer. In 1994 the company established Mitsubishi Heavy Industries-Jinling Air-Conditioners Company, Ltd. (MJA), a joint venture for residential-use air-conditioner production with the Jiangmen Jinling Group of Guangdong. Since 2002 MHISH has also begun development of a Chinese market for imported products, mainly large-scale air-conditioning equipment and refrigeration systems, including refrigeration units for tracks and trailers and centrifugal chillers produced at MHI's plants in Japan.
Subsequently, however, efficient business developments in China were impeded by restraint in investing into that market and difficulty to establish a strong brand strategy due to the diversity of its product brands. To resolve these issues, unification of its air-conditioning businesses in China - which until now have been conducted separately by MHAQ, MJA and MHISH - and implementation of a new brand strategy have been matters of urgency, along with establishment of a company dedicated to AC&R business that can comprehensively handle all aspects of the air-conditioning business in China, including refrigeration units for tracks and trailers and centrifugal chillers.
MHI considers AC&R as one of its business areas well positioned to address environmental issues. The company thus intends to further intensify its aggressive market exploration activities in this area, leveraging its unique strength as a comprehensive AC&R solutions provider.
Note: The "K" in "K Brand" is taken from two sources: the product code "KX" used for MHI's commercial-use multi-type air-conditioners, and the first letter of the word "king."
---
About MHI Group
Mitsubishi Heavy Industries (MHI) Group is one of the world's leading industrial groups, spanning energy, smart infrastructure, industrial machinery, aerospace and defense. MHI Group combines cutting-edge technology with deep experience to deliver innovative, integrated solutions that help to realize a carbon neutral world, improve the quality of life and ensure a safer world. For more information, please visit www.mhi.com or follow our insights and stories on spectra.mhi.com.