MHI's Room-Temperature Bonding Machine for 8-inch Wafers
Begins Operation at MEMS Manufacturer in Japan
-- User Support Program "MBSP" Launched --
Tokyo, April 8, 2010 - Mitsubishi Heavy Industries, Ltd. (MHI) has delivered the first unit of the company's fully automated wafer bonding machine capable of bonding 8-inch diameter wafers - substrates of integrated circuits (IC) - at room temperature, to a domestic MEMS*1 manufacturer. The occasion marks the first time anywhere that this class of room-temperature wafer bonding machine will actually be used for manufacturing at the production site. By enabling bonding of large-size wafers at room temperature, the machine contributes significantly to enhancement of economic efficiency, higher productivity in IC manufacturing, and the design of new devices. In tandem with the machine's delivery, MHI has launched its "Mitsubishi Bonding Support Program" (MBSP) to support customer manufacturing and product development activities. The company also intends to promote further expansion of fields to which room-temperature bonding technology can be applied.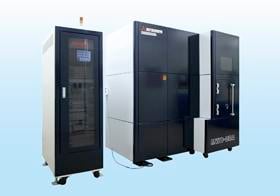 The room-temperature wafer bonding machine is equipped with a cassette capable of housing 20 wafers (10 pairs) with 8-inch diameters, and provides automatic wafer transfer and alignment capabilities for exact positioning of bonding wafers. By allowing bonding conditions to be programmed for each wafer set, the machine offers flexibility for small-lot production of many different products. Also, because the 8-inch machine's functions are compatible with already available 6-inch wafer machines, customers can opt for the 6-inch model initially and upgrade to the 8-inch machine later.

MBSP is a program to support users who develop devices applying room-temperature wafer bonding at each stage of development: conceptual design, functional prototype production, trial mass production and mass production. In implementing the program, MHI will utilize its own engineers and facilities to liaise closely with customers and provide support relating to device bonding and evaluation.

Room-temperature bonding has enabled bonding of the atoms of various materials, such as silicon, at room temperature by activating the surface of substrates with ion beam irradiation in a vacuum. Conventionally, wafer bonding has been performed by applying heat. Elimination of the heating process not only frees devices from heat stress and strain, thereby enabling rigid and highly reliable bonding, but also significantly reduces processing time due to the elimination of a heating/cooling cycle. With these advantages of room-temperature bonding and fully automated wafer alignment, the new machine realizes reductions in device production costs by significantly shortening production time and securing a higher yield ratio.

MHI developed the world's first machine of this kind, a room-temperature wafer bonding system for mass production of 6-inch wafers, in 2006. In addition to enhanced productivity and assured high quality of devices, the machine's features applicable to diversified substrate materials - including silicon, silicon oxide, metals, oxide single-crystals and compound semiconductors - have been highly evaluated by the market.

Conventionally MEMS devices have been produced mainly on 4-inch or 6-inch wafers, but in a quest for cost reductions through mass production and integration with CMOS technology*2, transition to production on 8-inch wafers is under way. Spurred by the delivery of the first 8-inch machine and the launch of MBSP services, going forward MHI looks to develop demand in various fields, including MEMS, and further strengthen its marketing activities.

Notes:
1. MEMS (micro-electro-mechanical systems) are micro-size devices, such as sensors and actuators, produced by micro-processing technology. These devices are used in automobiles, cellular telephones, digital cameras, ink-jet printer heads, etc.
2. CMOS (complementary metal-oxide-semiconductor) technology features low static power consumption and consequently lower waste heat. It is the technology most commonly adopted for VLSI (very large-scale integration) chips.
---
About MHI Group
Mitsubishi Heavy Industries (MHI) Group is one of the world's leading industrial groups, spanning energy, smart infrastructure, industrial machinery, aerospace and defense. MHI Group combines cutting-edge technology with deep experience to deliver innovative, integrated solutions that help to realize a carbon neutral world, improve the quality of life and ensure a safer world. For more information, please visit www.mhi.com or follow our insights and stories on spectra.mhi.com.