MHI Ships Second Replacement Reactor Vessel Closure Head
For STP Nuclear Operating Company in U.S.
Tokyo, December 24, 2009 - Mitsubishi Heavy Industries, Ltd. (MHI) today shipped a replacement reactor vessel closure head (RRVCH) for Unit 2 at the South Texas Project Electric Generating Station (STP) of STP Nuclear Operating Company (STPNOC) from the Futami Plant of its Kobe Shipyard & Machinery Works. The RRVCH is a key component of a pressurized water reactor (PWR) nuclear power plant (NPP). The RRVCH ready to ship today was ordered to MHI by STPNOC to enable reliable continuous operation of STP's plants.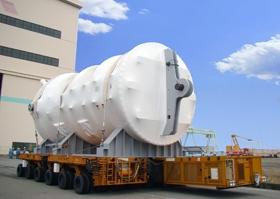 STP is located approximately 20 kilometers southwest of Bay City, Texas. In 2006 MHI received an order for two RRVCHs for STP Units 1 and 2, 1,364 MWe (megawatts of electricity) each, which commenced operation in 1988 and 1989, respectively. The delivery of the first unit was completed in August 2009.

The RRVCHs ordered are made of low-alloy steel*, have a diameter of approximately 5 meters. MHI manufactures RRVCHs at its Kobe Shipyard and Machinery Works. With each RRVCH for STP, fifty-seven (57) stainless-steel control rod drive mechanisms (CRDM) are mounted, and the overall structure measures approximately 10 meters in height and weighs about 100 tons. CRDMs are devices that play a key role in the safe and stable operation of nuclear power plants. In the unlikely event of a system malfunction, CRDMs promptly insert the control rods into the reactor core to achieve emergency shutdown.

Since 2002 MHI has received orders for 15 RRVCHs, 6 replacement steam generators (RSG) and 1 replacement pressurizer in the U.S. The orders have been placed based on the customers' excellent credit to MHI's capabilities to manage quality, manufacturing process and delivery schedule with high technology. In addition, MHI has also marketed its nuclear components in other major NPP world markets, now has marked 19 RRVCHs and 28 RSGs.

Along with increased momentum to control emissions of carbon dioxide or greenhouse gas, the global demand for replacement nuclear components at existing NPPs and for new NPP construction projects that are being planned is growing. MHI, firmly responding to this trend as a world-leading supplier that has capability of basic planning, design, manufacture, inspections, installation, test operation and post-startup services for PWR plants, aggressively pursues NPP component export business opportunities in order to contribute significantly to the improvement of social infrastructure for low-carbon society, a commonly recognized as major global challenge.

Note: Reactor vessels are manufactured with strong low-alloy steel made of manganese, molybdenum and nickel steel, a combination highly resistant to the strong pressures characteristic of pressurized reactor coolants.
---
About MHI Group
Mitsubishi Heavy Industries (MHI) Group is one of the world's leading industrial groups, spanning energy, smart infrastructure, industrial machinery, aerospace and defense. MHI Group combines cutting-edge technology with deep experience to deliver innovative, integrated solutions that help to realize a carbon neutral world, improve the quality of life and ensure a safer world. For more information, please visit www.mhi.com or follow our insights and stories on spectra.mhi.com.