MHI's First Radiotherapy Machine for Overseas
To Begin Treatment at Brussels University Hospital (UZ Brussel)
Tokyo, December 3, 2009 - The MHI-TM2000, a highly advanced radiotherapy machine, which Mitsubishi Heavy Industries, Ltd. (MHI) has delivered for Brussels University Hospital (Universitair Ziekenhuis Brussel: UZ Brussel), will soon begin clinical treatment. The MHI-TM2000, which is capable of precise identification of tumor location and exact delivery of radiation beams, enables highly accurate cancer treatment easily and more simply than conventional machines while simultaneously reducing the burden on the patient. Since its market launch in April 2008, MHI has delivered two units for domestic customers; the delivery for UZ Brussel represents the first one for overseas.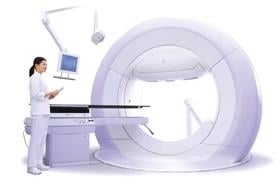 The order from UZ Brussel was realized through collaboration with BrainLAB AG of Germany, an OEM supply partner for the MHI-TM2000.

UZ Brussel, one of Europe's leading radiotherapy centers, provides advanced cancer treatment known for outstanding accuracy. With the addition of the MHI-TM2000, today's most advanced high-end machine, UZ Brussel's research and treatment facilities will be enhanced even further. Radiotherapy treatment with MHI-TM2000 is slated to commence in the beginning of next year.

In radiotherapy cancer treatment, the key challenge is to target internal tumors, which cannot be observed visually, with optimal precision and to irradiate the affected area accurately so as to prevent adverse effects on normal cells in the surrounding region. The MHI-TM2000, which is equipped with two X-ray fluoroscopes, is capable of the world's highest level of irradiation positioning precision - within an error margin of 0.1 millimeter - and thus minimizes side effects on non-cancerous tissue. Also, the MHI-TM2000 permits fast, automatic irradiation positioning, which has conventionally required considerable time and expertise by a skilled radiation technologist, and thus reduces the burden on both the patient and medical staff.

MHI believes that these outstanding features of the MHI-TM2000 were highly evaluated by UZ Brussel and resulted in its adoption. On the back of this initial introduction by one of Europe's leading medical facilities, MHI, in cooperation with BrainLAB, now plans to conduct activities to further enhance the company's presence in the European and U.S. markets, where radiotherapy is actively undertaken.

To achieve its full-scale entry into the radiotherapy equipment market, in October 2005 MHI established MHI Medical Systems, Inc., a marketing and service company for domestic market, jointly with Konica Minolta Medical & Graphic, Inc., Mitsubishi Corporation and Seika Corporation. MHI also enhanced its marketing structure, including establishment of a collaborative relationship with BrainLAB for marketing overseas.

To boost its development and production facilities for radiotherapy equipment, in October 2006 MHI completed a plant dedicated to radiotherapy machines within its Hiroshima Machinery Works (now, the Industrial Machinery Business, Technology & Solutions Department). The company is currently developing the world's first machine with tracking and irradiation functions for moving objects; the system will be capable of real-time tracking and uninterrupted irradiation of a tumor area, which continuously moves in tandem with normal breathing and functioning of the digestive organs.

Going forward, MHI will further promote the development, manufacture and marketing of medical equipment in a quest to achieve business growth in this area to a scale of 10 billion yen per year.
---
About MHI Group
Mitsubishi Heavy Industries (MHI) Group is one of the world's leading industrial groups, spanning energy, smart infrastructure, industrial machinery, aerospace and defense. MHI Group combines cutting-edge technology with deep experience to deliver innovative, integrated solutions that help to realize a carbon neutral world, improve the quality of life and ensure a safer world. For more information, please visit www.mhi.com or follow our insights and stories on spectra.mhi.com.