MHI Markets World's First Engine/Battery Hybrid Forklift Trucks
- On-board Lithium-ion Secondary Battery Realizes Near 40% Fuel Cost Saving -
Tokyo, October 5, 2009 - Mitsubishi Heavy Industries, Ltd. (MHI) has developed the world's first*1 engine/battery hybrid forklift trucks with 4.0 to 5.0 ton rated capacities. Domestic marketing of the new "GRENDiA EX Hybrid" models began today. By integrating a lithium-ion secondary battery developed in-house and high-efficiency motors with small-size, low-exhaust- emission diesel engines that comply with new emission regulations, the company has realized outstanding environment-friendly, fuel-efficient performance: approximately 39% greater fuel efficiency than the standard internal-combustion powered trucks. Initially the GRENDiA EX Hybrid will be available only in the domestic market.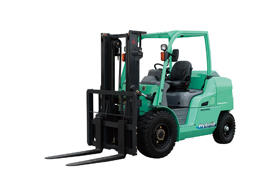 The world's first hybrid forklifts with on-board lithium-ion battery adopt "series & parallel" *2 for travel mode and "parallel" operation*3 for lifting. The power train consists primarily of the lithium-ion battery, a diesel engine, two induction motors and inverters. By employing the series & parallel method and its high-capacity lithium-ion battery, MHI has successfully downsized the engine while maintaining truck performance equal to earlier models. The combination not only improves fuel efficiency significantly but also contributes greatly to reducing carbon dioxide (CO2) emissions by slashing engine displacement by one-third. The GRENDiA EX Hybrid is MHI's first product to be equipped with its proprietary lithium-ion battery, which the company is currently preparing for full-scale commercial production.

The GRENDiA EX Hybrid is the hybrid offering in the internal-combustion engine-powered GRENDiA EX series, with 3.5 to 5.5 ton rated capacities, which MHI began marketing this summer. In addition to enhanced environmental friendliness and higher fuel efficiency, the hybrid models also feature a rigid frame design, powerful workability and high maneuverability achieved through parts sharing with the GRENDiA EX, the base model. Incorporating various additional functions, the hybrid models realize the high level of safety, efficiency and easy maintenance required for engine-powered forklifts in this class.

The new hybrid models feature MHI's proprietary Mast and Travel Interlock System, a risk reduction system, and a digital speedometer as standard equipment. MHI further offers users maintenance cost reduction support through optional Fleet Management Services (FMS), under which the company proposes customers the optimal fleet deployment based on comprehensive analysis of specific operating conditions and maintenance costs.

As environmental concern increases globally, today demand to reduce environmental influences is increasing sharply in the industrial-use vehicle market too, as indicated by the fact that battery-operated models now comprise the majority of domestic forklift truck sales. However, in the category exceeding 4.0 ton rated capacity, which requires powerful lifting, internal-combustion engine-power forklifts have remained dominant.

In light of the current market trend, MHI now offers new hybrid models that provide uncompromised durability and economic efficiency while simultaneously responding to the world's call for significant reduction in energy consumption and CO2 emissions, all accomplished leveraging the company's existing components already proven in its battery- and engine-powered forklifts.

Following the introduction of its new hybrid forklifts, MHI now intends to step up its proactive marketing activities in the diversifying forklift market, as a way of enhancing customer satisfaction.
Notes:
1.  Based on MHI survey at end of September 2009.
2.  A method that enables driving of the wheels either by engine only, battery only, or engine and drive motor simultaneously.
3.  A method for operating the hydraulic pump by engine and lifting motor simultaneously.
Major Specifications of GRENDiA EX Hybrid

Model

FD40N Hybrid

FD45N Hybrid

FD50N Hybrid

Maximum traveling speed (km/h)

21

21

21

Rated capacity (kg)

4,000

4,500

5,000

Hybrid system (traveling)

Series & parallel

Hybrid system (lifting)

Parallel

Engine

Diesel engine with 3.3 liter displacement

Motors

Induction motors: 10kW x 2

Battery

Lithium-ion secondary battery


Products Page
---
About MHI Group
Mitsubishi Heavy Industries (MHI) Group is one of the world's leading industrial groups, spanning energy, smart infrastructure, industrial machinery, aerospace and defense. MHI Group combines cutting-edge technology with deep experience to deliver innovative, integrated solutions that help to realize a carbon neutral world, improve the quality of life and ensure a safer world. For more information, please visit www.mhi.com or follow our insights and stories on spectra.mhi.com.