MHI to Donate Photovoltaic Power Generation System and
Sponsor Lecture Course and Scholarship in Vietnam
--MHI's Initiative in establishing global partnerships through its products--
Tokyo, September 14, 2009 - Mitsubishi Heavy Industries, Ltd. (MHI) will donate a photovoltaic (PV) power generation system to the Dong Anh-Okinawa Economic and Cultural Exchange Center (DOWACEN) in Hanoi, a facility that also provides Japanese language teaching. The donation is being made in accordance with the company's corporate social responsibility (CSR) program, one theme of which is to support emerging countries through its products. The solar power generation system will provide electricity for classroom lighting and enable uninterrupted teaching even during power outages. MHI targets to install the tandem-type PV modules and peripheral equipment by May 2010.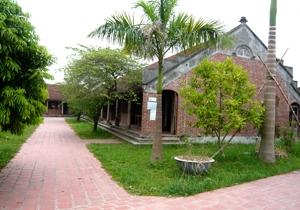 MHI president Hideaki Omiya visited DOWACEN today and participated in a ceremony marking the occasion. Earlier in the day, he attended the plant opening of MHI Aerospace Vietnam Co., Ltd. (MHIVA), the company's commercial aircraft component production subsidiary in Hanoi.

DOWACEN was jointly established by the Vietnam-Japan Friendship Association of Hanoi, the Okinawa-Vietnam Friendship Association and Okinawa-Vietnam Exchange Association Co., Ltd in 1997. It is situated near the Thang Long Industrial Park (TLIP), where many Japanese companies, including MHIVA, have plants. DOWACEN undertakes human resources development, including Japanese language teaching. The center has 36 staff members and can accommodate about 400 students monthly, primarily training local employees working in the TLIP. MHIVA has sponsored its 45 local employees in taking basic Japanese language lessons at DOWACEN in 2008.

The PV power generation system to be donated includes "MHI Tandem" tandem-type PV modules with a total power generation capacity of approximately 10 kilowatts, a power conditioner and module mount bases. As an independent power source, the system is able to provide electricity for four classrooms, for lighting and other usages, during a power outage.

MHI Tandem is a next-generation thin-film PV module having a tandem layer structure consisting of a microcrystalline silicon film on conventional amorphous silicon film. Tandem-type modules are able to absorb a wider solar-spectral range—from ultra-violet to infrared—and generate more electricity than amorphous-only type modules.

Following the ceremony at DOWACEN, Mr. Omiya visited Hanoi University of Technology (HUT), the country's first technology-focused national university, for a signing ceremony relating to MHI's sponsorship of a lecture course and scholarship program. MHIVA employs HUT graduates, and MHI's newest initiatives here stem both from the company's CSR commitment to support Vietnam's effort to boost its level of industrialization and its desire to secure well trained employees in the future.

As a company conducting global operations, MHI places great importance in supporting emerging countries reflecting its CSR action guidelines. After donating the PV power generation system as a symbolic case, going forward MHI will leverage its products and technologies to further enhance its contributions to solving global-level social issues such as environmental protection, educational support, and poverty mitigation.
---
About MHI Group
Mitsubishi Heavy Industries (MHI) Group is one of the world's leading industrial groups, spanning energy, smart infrastructure, industrial machinery, aerospace and defense. MHI Group combines cutting-edge technology with deep experience to deliver innovative, integrated solutions that help to realize a carbon neutral world, improve the quality of life and ensure a safer world. For more information, please visit www.mhi.com or follow our insights and stories on spectra.mhi.com.