MHI's Commercial Aircraft Component Production Plant in Vietnam
Begins Commercial Production
-- Assembly and Shipment of Flaps for Boeing Next-Generation 737 --
Tokyo, September 14, 2009 - MHI Aerospace Vietnam Co., Ltd. (MHIVA) in Hanoi, a subsidiary of Mitsubishi Heavy Industries, Ltd. (MHI), has completed construction of a commercial aircraft component production plant and launched production of flaps for the Boeing Next-Generation 737. MHIVA is the first company in Vietnam to manufacture and ship aircraft components. The flaps shipped from the plant will be delivered to the Boeing plant in Renton, Wash.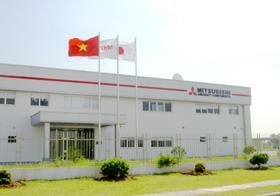 To celebrate the commercial produciton launch, a ceremony was held today at the Hanoi plant attended by many distinguished guests and parties concerned, including His Excellency Mitsuo Sakaba, Ambassador Extraordinary and Plenipotentiary of Japan to Vietnam; Ralph L. "Skip" Boyce, vice president of Boeing International and president of Boeing Southeast Asia; and Hideaki Omiya, president of MHI.

MHIVA, capitalized at US$7 million, was established in December 2007 as a wholly owned subsidiary of MHI to assemble commercial aircraft component structures. After completion of its plant at the Thang Long Industrial Park (TLIP) approximately 16 kilometers northwest of central Hanoi, MHIVA has been preparing for production since June. The production plant launched with 50 employees, with progressive increases to keep pace with business expansion. Local employees recruited in Vietnam underwent an 11-month training program concerning aircraft component production at MHI's Nagoya Aerospace Systems Works in Japan to master the assembly work for the 737 flaps.

The production plant, which occupies 4,500 square meters (m2) in floor area within the 19,100 m2 plant premises, will assemble flaps for the Boeing Next-Generation 737. MHI is also mulling to expand the scope of MHIVA's component production operation to include other Boeing commercial airplanes. Initially, the flaps for the 737 will be shipped to MHI's Nagoya Aerospace Systems Works for painting and final inspection, and then delivered to the U.S. Once production gathers momentum, MHIVA will deliver the flaps to the U.S. directly.

Flaps are hinged surfaces on the trailing edge of an airplane's wings that serve to enhance the aircraft's lift force. The increased lift generated by the flaps provides complementary lift at slow speeds during takeoff and landing and allows the aircraft to obtain sufficient lift to prevent stalling.

The 737 family is Boeing's best-selling commercial airplane, with more than 6,000 deliveries to date including the initial models, the "Classics" and today's "Next-Generation" lineup. MHI began with production of flaps for the Next-Generation 737 models in 1996 and has already produced sets for more than 3,000 airplanes.

MHI presently has multiple large-scale projects under way in the aerospace business, including full-scale production of composite material wing boxes for the next-generation super-efficient Boeing 787 Dreamliner and the MRJ (Mitsubishi Regional Jet), a next-generation regional jet. The company's flap production in Vietnam is part of its initiative to partly shift its metal component assembly work overseas, where abundant human resources are available, and to focus its domestic facilities on high-value-added operations.

Now that the assembly and shipment of Next-Generation 737 flaps in Vietnam have favorably started, going forward MHI will continue to work on expanding its commercial aircraft business by combining overseas bases that deal mainly with assembly of existing components such as metal parts and domestic production bases focused on high-value-added operations that require sophisticated technologies, such as composite materials.
---
About MHI Group
Mitsubishi Heavy Industries (MHI) Group is one of the world's leading industrial groups, spanning energy, smart infrastructure, industrial machinery, aerospace and defense. MHI Group combines cutting-edge technology with deep experience to deliver innovative, integrated solutions that help to realize a carbon neutral world, improve the quality of life and ensure a safer world. For more information, please visit www.mhi.com or follow our insights and stories on spectra.mhi.com.