MHI Markets LED-UV Drying System
For Larger Format Sheet-fed Offset Presses,
Realizing 70-80% Reduction in Electricity Consumption
-- Suitable for Installation on Tandem Perfector Offset Presses --
Tokyo, June 30, 2009 - Mitsubishi Heavy Industries, Ltd. (MHI) has today begun marketing an LED-UV (ultraviolet ray) ink-drying system using light-emitting diodes (LED) which enables significant energy saving in printing. The system, which MHI has commercialized, leveraging its know-how as a leading printing machinery manufacturer, is suitable for installation on larger sized (DIAMOND V3000 Series) sheet-fed presses that can accommodate sheets up to 1,050mm (41-11/32 inches) wide. It is also installable on tandem perfector offset presses which are capable of one-pass printing of front and reverse sides of sheets without sheet tumbling. The LED-UV system will enable significant reductions of 70 to 80% in electricity consumption, compared with UV ink-drying systems that use UV lamps.
With UV printing, the ink on the sheet surface instantly hardens when irradiated by ultraviolet ray. By eliminating drying time, such systems enable immediate transfer to the finishing process and, as a consequence, shorten delivery times to customers, an advantage that has also contributed to market expansion of UV printing. However, systems using UV lamps consume considerable electricity and require a large initial investment that also entails a dedicated electric power supply source and exhaust ducting. LED-UV ink drying solves these drawbacks by switching the light source from conventional UV lamps to LEDs.

The LED-UV ink-drying system not only reduces electricity consumption significantly but also offers various advantages over the existing system:
1. No ozone generation: environment friendly and eliminates need for exhaust ducting
2. Compact auxiliary equipment: reduced installation space
3. Lower heat: fewer adverse effects on materials such as films and on printing press
4. Instant light on/off: no latency time (UV lamps require 4 minutes to light)
5. Longer operational life (about 15 times UV lamps): reduced frequency of lamp changes

The LED-UV ink-drying system enables immediate transfer of sheets to the next finishing process and when equipped on the DIAMOND V3000TP tandem perfector offset press, further enhances the overall productivity afforded by one-pass printing.

While LED-UV ink-drying systems thus provide many advantages, UV radiation by LED is weaker than conventional UV lamps, and for this reason the location and method adopted for installing the drying unit within the printing press are of critical importance. By fully leveraging its abundant experiences, know-how and comprehensive advanced technologies, MHI has successfully achieved practical application of the LED-UV drying system for regular UV printing, including application for its tandem perfector which incorporates the company's proprietary mechanisms.

Going forward, MHI will vigorously conduct marketing activities to expand sales of the LED-UV drying system by firmly recognizing the customer's diverse operational conditions and applying its printing know-how and solutions to the needs of the printing plant.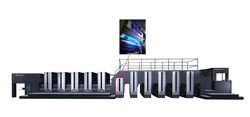 <LED-UV dryer installed on translink unit of Tandem Perfector>
Products Page
---
About MHI Group
Mitsubishi Heavy Industries (MHI) Group is one of the world's leading industrial groups, spanning energy, smart infrastructure, industrial machinery, aerospace and defense. MHI Group combines cutting-edge technology with deep experience to deliver innovative, integrated solutions that help to realize a carbon neutral world, improve the quality of life and ensure a safer world. For more information, please visit www.mhi.com or follow our insights and stories on spectra.mhi.com.