MHI, Wartsila and CSIC Joint Venture in China
Completes Construction of Large Low-speed Marine Diesel Engine Plant
Tokyo, April 16, 2009 - Qingdao Qiyao Wartsila MHI Linshan Marine Diesel Company Ltd. (QMD), a company jointly established by Mitsubishi Heavy Industries, Ltd. (MHI), China Shipbuilding Industry Corporation (CSIC) and Wartsila Corporation of Finland to manufacture and market large low-speed marine diesel engines, completed construction of a manufacturing plant in Shandong Province. To mark the occasion, which signals the JV's full-scale entry into the market, QMD held a ceremony attended by more than 300 guests, including shipbuilders and shipowners, on April 16.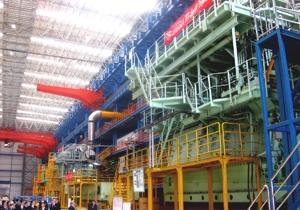 The new plant was completed at the Haixiwan shipbuilding base in Qingdao, where QMD has its main office. Under license from MHI and Wartsila, QMD has begun manufacture of two-stroke low-speed marine diesel engines with a cylinder bore of up to 960 millimeters (mm). The plant has an annual production capacity of about 1.2 million bhp, with potential to expand to near 3.5 million bhp. The engines to be produced are the Mitsubishi-UE and Wartsila models.

QMD was established in September 2006 from the successful merging of the three companies' objectives: CSIC was looking for strong technological partners, while MHI and Wartsila sought to further strengthen their positions in the rapidly growing Chinese shipbuilding industry.

At a time when the global market for marine diesel engines is lackluster amid the worldwide economic slowdown and financial crisis, the trend of cargo volume has already begun showing signs of recovery in Chinese market. Completion of the QMD plant signifies that the JV is now structured to meet future demand from the Chinese market, which is expected to expand significantly over the medium to long term. Taking advantage of this opportunity, QMD and its three partner companies aim to vigorously pursue further penetration into the local market with the Mitsubishi-UE and Wartsila engines.
---
About MHI Group
Mitsubishi Heavy Industries (MHI) Group is one of the world's leading industrial groups, spanning energy, smart infrastructure, industrial machinery, aerospace and defense. MHI Group combines cutting-edge technology with deep experience to deliver innovative, integrated solutions that help to realize a carbon neutral world, improve the quality of life and ensure a safer world. For more information, please visit www.mhi.com or follow our insights and stories on spectra.mhi.com.