MHI to Market "PD23" Compact Cylindrical Grinding Machine
Enabling Easier Operation of Palm-size Workpiece Processing
Tokyo, February 3, 2009 - Mitsubishi Heavy Industries, Ltd. (MHI) has developed the "PD23", a new cylindrical grinding machine for processing cylindrically shaped workpieces such as shafts. The company will commence marketing on February 5. In response to the current trend toward downsizing of machinery parts, the PD23 is capable of processing small, palm-size workpieces. For easier operation, the machine itself has also been downsized and the height of the workpiece center from the floor has been reduced to one meter. The company anticipates a wide range of applications, including processing of small parts for automobile drive trains, parts for air-conditioner compressors, and hydraulic piston parts.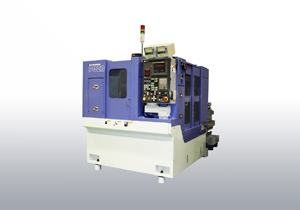 The PD23, which features two-axis (X and Z) grinding head wheel movement, will be available in two models: the PD23-B35P for straight grinding, which grinds only the surface of cylinders; and the PD23-B35A for angular grinding, which simultaneously grinds both the surface of cylinder and edge face. Both units are capable of processing not only shaft type workpieces but also flange type workpieces by holding the object with a collet chuck*, holding from inside. While securing a 350 millimeter (mm) center distance (maximum length between the centers of the headstock and tailstock) in order to allow sufficient workspace for processing flange type workpieces, the machine width at the front is kept to 1.6 meters to facilitate installation into the processing line. For operator convenience, two horizontal swing pivots are adopted for the machine's control panel.

In response to user demand for grinding wheels as large as possible, the PD23 can attach grinding wheels up to 510 mm in external diameter. The machine comes equipped with a 5.5 kilowatt (kW) wheel motor as standard, and customers have the option of ordering motors up to 7.5 kW. Mechanical rigidity also has been enhanced to accommodate high-performance processing with use of cubic boron nitride (CBN) grinding wheels. Highly acclaimed interactive software for grinding operations enables input of up to 100 programs, optionally expandable to 200 – several times greater than competing products, thus making the new machine able to handle a wide variety of processing jobs. The PD23 also delivers enhanced cost performance with the standard package of devices and tools including a balancing arbor, wheel flange lifter, longitudinal positioning device and full machine-enclosure type cover – items that usually are available as optional equipment.

Leveraging its strength and expertise accumulated through its business operations in machine tools and cutting tools, through the years MHI has developed various machine tools and production lines anticipating user needs. The new PD23 cylindrical grinding machine is designed to function not only as a machine for mass production lines, including those producing automobile parts, but also as a general-purpose machine for processing a diverse range of parts in small quantities that are used for various machinery – which tend to demand greater downsizing, higher precision and increasingly complex processing. With its array of features, the PD23 will provide operational ease and space saving advantages to production sites of all kinds.

In addition to the domestic market, MHI will vigorously conduct marketing activities for the PD23 abroad, targeting areas where the parts processing activities of global manufacturers are concentrated.

*A collet chuck generally consists of a tapered receiving sleeve used to hold a workpiece and tools. With processing of flange type workpieces, the collet is inserted into the bore and expanded to hold the workpiece from the inside.
Major Specifications of PD23-B35A and PD23-B35P Cylindrical Grinding Machines

    

Swing : φ230 millimeters (mm)
Maximum grinding diameter of workpiece:φ200 mm
Distance between centers:350 mm
Maximum weight of workpiece:50 kilograms (kg)
Grinding wheel external diameter:    


PD23-B35A:

φ510 mm
PD23-B35P:φ455 mm, φ510 mm (option)
Wheel driving motor:  5.5 kilowatts (kW), 7.5 kW (option)
Rapid movement:
Wheel spindle stock (X axis): 20,000 mm/minute
Table (Z axis): 12,000 mm/minute
Main motor:1.6 kW
NC software: FANUC21iTB
Center height (from floor): 1,000 mm
Machine width:1,600 mm
Machine depth:3,100 mm
Machine weight:4,500 kg

 

Products Page
---