MHI Develops "ZI20A" High-precision Gear Grinding Machine
For High-speed Processing of Internally Toothed Ring Gears,
Achieving Low-cost Processing of Gears for Low-noise Operation
- Gear Grinding Tool Life Significantly Extended -
Tokyo, January 22, 2009 - Mitsubishi Heavy Industries, Ltd. (MHI) has developed the "ZI20A," a new internally toothed ring gear grinding machine, which enables high-speed, high-precision processing of ring gears that applications include automobile transmission gears. The new machine, which achieves low-cost processing of high-precision gears suitable for low-noise operation, will be unveiled at the "Gear-cutting machine private show" of MHI's Machine Tool Division to take place on February 5 and 6 in Ritto, Shiga Prefecture. The domestic marketing of the machine will commence in April.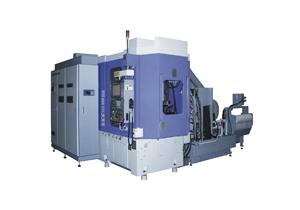 The ZI20A delivers enhanced productivity thanks to its grinding speed (sliding velocity) four times faster than with conventional honing. This achievement owes to the incorporation of various innovative technologies such as MHI's proprietary barrel-shaped multi-threaded grinding wheel (patent pending) made of cubic boron nitride (cBN) for the wheel attached to its main spindle. High-speed grinding also contributes to longer gear grinding tool life and reduces the grinding tool cost per work-piece to one-sixth, which is almost equal to the cost for preheat processing. MHI expects strong demand for the new machine from various quarters, including auto industry makers undertaking rationalization investments targeting enhanced processing of automatic transmission parts.

Demand has been growing in the auto industry for machines capable of low-cost processing of compact transmission gears with high accuracy and improved efficiency, in a quest to manufacture automobiles that provides quieter driving and higher fuel efficiency at lower production costs. Especially in recent years, there has been a rising call for technological innovations in high-precision processing of internally toothed gears, in order to achieve noise reduction in the planetary gear systems used for automatic-transmission and hybrid vehicles. In response to these needs, machine tool manufacturers have been vigorously conducting research activities. Honing by electroplated grinder is a technology already introduced in the market, but this method entails considerably high grinding tool cost per unit. A more effective solution has thus been sought through further technological innovation.

In developing the ZI20A, MHI focused on processing accuracy, productivity, and the cost and life of the grinding tool. Based on vast experiences and expertise accumulated in its gear cutting machine business, the company devised a method that enables grinding by high-speed rotation of a multi-threaded type grinder wheel, an innovation resulting in high processing efficiency. The machine also adopts a high-speed, high-accuracy rotation synchronous control technology that achieves high-speed grinding through high-speed spindle rotations – 15,000 revolutions per minutes (rpm) for the main spindle that rotates grinding wheel and 6,000 rpm for the work-piece spindle. The adoption of a cBN grinding bit not only enables lower grinding tool cost and longer tool life, but also facilitates further reduction in tool cost and easier tool accuracy management by enabling the gear dressing tool unit to be equipped on the machine.

Since developing the world's first dry cutting gear production system using no cutting fluid in 1997, MHI has led the industry with its various gear-cutting machines and cutting tools featuring high performance and accuracy while simultaneously addressing global environmental issues. With the addition of the ZI20A internally toothed gear grinding machine to its product portfolio, the company will now further boost its marketing activities to gear manufacturers, including the automobile industry, with new value proposals.
---
About MHI Group
Mitsubishi Heavy Industries (MHI) Group is one of the world's leading industrial groups, spanning energy, smart infrastructure, industrial machinery, aerospace and defense. MHI Group combines cutting-edge technology with deep experience to deliver innovative, integrated solutions that help to realize a carbon neutral world, improve the quality of life and ensure a safer world. For more information, please visit www.mhi.com or follow our insights and stories on spectra.mhi.com.