MHI to Unveil 2 High-speed, Fully "Dry-cut" Gear Cutting Machines:
"SE15A" Gear Shaping Machine for Small-size Workpiece Processing and
"GE25A" 40 Sec. Cycle-time Gear Hobbing Machine with Chamfering Device
Tokyo, October 20, 2008 - Mitsubishi Heavy Industries, Ltd. (MHI) will unveil two newly developed "dry-cut" type gear cutting machines - systems not using any cutting fluid for processing - at the 24th Japan International Machine Tool Fair (JIMTOF 2008) to take place at Tokyo Big Sight from October 30 through November 4. The "SE15A," which can process workpieces up to 150 millimeters in outside diameter, will be added to the company's "SE" series of dry-cut gear shaping machines. The new "GE25A," a gear hobbing machine, will become available with a newly added chamfering device.
SE15A Gear Shaping Machine
The SE15A, which enables high-speed processing of small-size workpieces, will be available in two types with different peripheral device arrangements - a stand-alone type and a production line configuration type - to meet the customer's specific production environment.
The SE15A, a fully "dry-cut" type unit that does not require cutting oil to reduce wear of the cutting tool or cleaning of the tool and workpiece during the cutting process, produces no oil mist or waste oil, and as a result contributes to a clean working environment while also addressing environmental demands. The machine also eliminates electricity normally needed for cutting oil-related devices such as the oil circulation pump and cutting oil cooler, thereby enabling a 20% saving in energy compared with the SD15CNC, the existing "wet-cut" machine for small-size workpiece machining.
Featuring counterbalancing shafts optimally arranged within the gear train of the machine's drive system, the SE15A greatly reduces vibration and noise and enables stable machining at a maximum high speed of 2,000 spindle strokes per minute, about 50% faster than the current model. Together with a new machine design that requires roughly 18% less installation space than the SD15CNC, the SE15A facilitates easy configuration of production lines through modularized peripheral equipment and a conveyor system. Easy and simple operation software for setting the machining conditions and graphic display of the machine's operating status further enhance this model's operability and ease of maintenance.
New GE25A Hobbing Machine
The new GE25A, based on the current GE25A system, is now equipped with a gear-tooth chamfering device. In customer's preference, the new machine is also available with a new hob introduced earlier this month, which uses Dry Cut III thin-film coating technology. Through these refinements, the new GE25A achieves a high-speed cycle time of 40 seconds for a final reduction gear of passenger cars together with highly precise hobbing capability. The elimination of chamfering after the hobbing machine, which has been required for the previous GE25A model, enables more compact gear cutting lines.

The GE25A is capable of totally dry-cut machining of workpieces up to 250 millimeters in outside diameter, such as final reduction gears of automobiles, at a high speed of 250 meters per minute with high accuracy conforming to Japanese Industrial Standards (JIS) N8 grade standards. This is achieved by increasing the number of index points of the ring loader for automatic workpiece shifting to four, doubled from the previous model. The four-position ring loader moves the hobbed workpiece to the next index point of the chamfering station. By integrating the chamfering and hobbing processes, productivity is enhanced and a more compact gear cutting line becomes possible. For improvement of the working environment, workpiece machining is conducted within a fully enclosed unit to prevent machining chips from scattering. As with the SE15A, the new GE25A is equipped with easy, simple operation software.
Going forward, along with further expansion of its dry-cut gearing cutting machine portfolio, MHI will introduce additional Dry Cut III tools, which have greatly enhanced wear resistance compared with existing tools, to provide customers with gear cutting systems incorporating both dry-cut machines and tools. The company will vigorously conduct marketing activities for this portfolio in a quest to respond flexibly to all customer needs and production environments.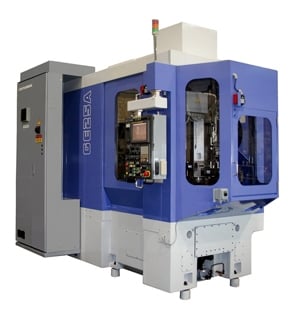 [ GE25A dry-cut gear hobbing machine with chamfering device ]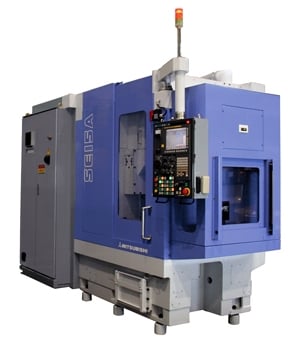 [ SE15A dry-cut gear shaping machine ]
Main Specifications of SE15A Gear Shaping Machine
Maximum workpiece diameter (millimeters: mm)

External gear

150

Internal gear

60 + cutter diameter

Maximum module

4

Maximum workpiece width (mm)

32

Spindle stroke speed (stokes/minute)

400 - 2,000

Radial travel (mm)

-30 - 195

Radial rapid traverse (mm/minute)

10,000

Cutter spindle diameter (mm)

90

Table diameter (mm)

260

Main motor output (kW)

7.5

Total power consumption (kVA)

31

Installation space (mm): Type I *

1,780 x 2,300

Installation space (mm): Type II*

1,690 (narrowest front: 1,280) x 2,700

Machine weight (kg)

5,500
*Type I: Standard stand-alone type. Type II: Narrow width to fit in production line configuration.
Main Specifications of GE25A Gear Hobbing Machine with Chamfering Device
| | |
| --- | --- |
| Maximum workpiece diameter (mm) | 250 |
| Maximum module | 6 |
| Maximum hob size (mm, diameter x length) | 130 x 230 |
| Chamfering cutter diameter (mm) | 110 |
| Total power consumption (kVA) | 52 |
| Installation space (mm) | 2,170 x 2,770 |
| Machine weight (kg) | 9,900 |
Products Page
---
About MHI Group
Mitsubishi Heavy Industries (MHI) Group is one of the world's leading industrial groups, spanning energy, smart infrastructure, industrial machinery, aerospace and defense. MHI Group combines cutting-edge technology with deep experience to deliver innovative, integrated solutions that help to realize a carbon neutral world, improve the quality of life and ensure a safer world. For more information, please visit www.mhi.com or follow our insights and stories on spectra.mhi.com.