MHI to Market "Super Dry III" Hob, A Precision Dry Cutting Tool
Adopting Newly Developed Thin –film Coating Technology
Doubled Tool Life at Ultra-high Speed Cutting
For Greater Cost Reduction and Enhanced Productivity
Tokyo, October 16, 2008 - Mitsubishi Heavy Industries, Ltd. (MHI) has developed a new thin-film coating technology to be applied to the surface of precision cutting tools, which greatly extend tool life at ultra-high-speed cutting at more than 200 meters per minute (m/min) without use of cutting oil. The company has achieved commercial production of the "Super Dry III" hob, featuring the new coating technology, and will unveil the new product at the 24th Japan International Machine Tool Fair (JIMTOF 2008) to take place at Tokyo Big Sight from October 30 through November 4. Marketing of the Super Dry III hob also will begin on October 30.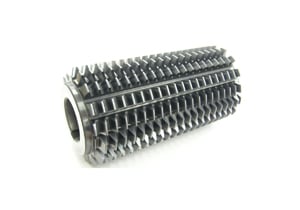 In 2002 MHI launched the "Super Dry II" hob that realized ultra-high cutting speed, stable processing and long tool life, which exceeded the assumed limitation of cutting tools made of fully coated high-speed steel available at that time. The Super Dry III hob will contribute to further cost reduction and enhancement of productivity with an 80 – 100 % longer tool life than its predecessor.

MHI has already submitted its application to patent the Super Dry III's thin-film coating technology. In developing the technology, the company focused on enhancing the anti-oxidation and wear-resistance capabilities of the coated film at high temperatures, in order to extend tool life in high-speed dry cutting. As a result, the Super Dry III has successfully raised the tool's oxidation temperature to 1,300 degrees Celsius (C), 100 degrees higher than the Super Dry II. In actual cutting tests, the Super Dry III demonstrated 40% less tool flank wear than the Super Dry II and 80% longer tool life at a cutting speed of 250 m/min and double the tool life at 300 m/min.

Since developing the world's first dry cutting gear production system using no cutting fluid in 1997, MHI has expanded its dry-cut product offerings, including machine tools such as gear hobbing machines and gear shaping machines as well as cutting tools such as super dry hobs and super dry gear shaper cutters. The company's dry-cut gear production systems have not only won high acclaim from gear producers for their high-speed processing capability, outstanding performance, low operational costs, and contribution to improving work environments at gear production sites, they also address environmental needs through their elimination of cutting fluid.
---
About MHI Group
Mitsubishi Heavy Industries (MHI) Group is one of the world's leading industrial groups, spanning energy, smart infrastructure, industrial machinery, aerospace and defense. MHI Group combines cutting-edge technology with deep experience to deliver innovative, integrated solutions that help to realize a carbon neutral world, improve the quality of life and ensure a safer world. For more information, please visit www.mhi.com or follow our insights and stories on spectra.mhi.com.