MHI to Market New Commercial Web
Offset Press: "DIAMOND 16 MAX+"
-- Enhanced Productivity and Print Quality, Plus Easy Operation --
Tokyo, October 2, 2008 - Mitsubishi Heavy Industries, Ltd. (MHI) has developed a new commercial web offset press, the "DIAMOND 16 MAX+," for printing of commercial materials including magazines, pamphlets and newspaper advertising inserts. In developing the new press MHI targeted "one button operation," a concept to enable entire printing job operations and their management with the push of a single button by one operator without special skills. Based on this concept, the DIAMOND 16 MAX+ has achieved enhanced productivity and print quality while thoroughly pursuing easy and less skill-intensive operations. The press also reduces printing costs and enables shorter delivery time from order receipt to product printing. It adopts a Scandinavian design featuring simple functional beauty while simultaneously giving full attention to safety and compact size.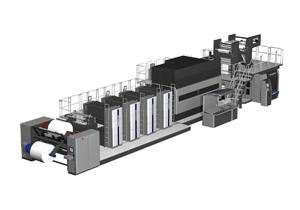 The DIAMOND 16 MAX+ will be available in a basic model that carries on the printing functions of the existing DIAMOND 16 MAX, and can be fitted with a number of automated features up to and including full automated functions. Various equipment options will be offered to address the demands of the market, such as the need for shorter make-ready time, reduced waste caused by printing imperfections, consistent print quality, and easier operation to cope with increasing numbers of younger, less-skilled operators. For enhanced safety, all models feature functions indicating the machine's operating status through illumination of three colored light-emitting diodes (LED).

The fully automated model boasts new functions fully utilizing digital information systems to reduce the operator's burden and enhance print quality by enabling management of entire print jobs – from plate changing to delicate adjustment of color density and images – without relying on the operator's expertise. Specifically, the systems equipped in the model include the following:

MAX DIAMOND EYE is a patch (color bar)-less inline quality controller that achieves fully automated color adjustments from the start to end of printing. Prepress image data is compared with the actual image data read by sensor, and color density is automatically adjusted. Together with startup control and good copy post-control functions, this feature enables considerable reductions in both printing time and waste.

MAX Color Navigator simplifies color adjustment by enabling automatic fine-tuning of colors – color density and image – a process that conventionally demands complex control of multiple color ink units. The operator is able to easily and quickly adjust the colors via touch-panel control, checking the colors and images displayed on the print image screen. In 2006 this system won the Technology Award of the Japanese Society of Printing Science and Technology.

MAX SimulChanger is MHI's new fully automatic high-speed plate changing system that enables fast and precise removal and mounting of all printing plates simultaneously, including plate cylinder repositioning, in less than 60 seconds – the world's fastest.

Scandinavian design, which pursues a refined, modern sense of style while focusing on simple functional beauty based on ergonomics, is regarded as the leading design mode by industrial designers worldwide. MHI has incorporated this design concept into its new printing presses with the adoption of boldly faceted, gentle rounded forms, while simultaneously achieving functional ease and outstanding safety.
---
About MHI Group
Mitsubishi Heavy Industries (MHI) Group is one of the world's leading industrial groups, spanning energy, smart infrastructure, industrial machinery, aerospace and defense. MHI Group combines cutting-edge technology with deep experience to deliver innovative, integrated solutions that help to realize a carbon neutral world, improve the quality of life and ensure a safer world. For more information, please visit www.mhi.com or follow our insights and stories on spectra.mhi.com.