MHI Delivers 300th Ship to Mitsui O.S.K. Lines at Nagasaki Shipyard
-- Largest Container Ship Built by MHI --
Transportation Efficiency Improved through
Adoption of 47 kgf/mm2 Higher Tensile Strength Steel
Tokyo, July 2, 2008 - Mitsubishi Heavy Industries, Ltd. (MHI) has delivered the "MOL COMPETENCE," a large-size container ship, to Mitsui O.S.K. Lines, Ltd. (MOL) at the Koyagi Plant of MHI's Nagasaki Shipyard and Machinery Works. The container ship marks the 300th vessel delivered from MHI to MOL. The 8,100 TEU (twenty-foot equivalent unit), 90,000 gross ton "MOL COMPETENCE" is the largest container ship built by MHI. It is one of a series of ships targeting reduced weight and improved transportation efficiency through features including the world's first adoption of higher tensile strength steel (HTSS) with yield stress of 47 kgf/mm2 for longitudinal strength members, the most important parts of a container ship's hull. The HTSS was jointly developed by MHI and Nippon Steel Corporation.
MHI believes that the customer's high appraisal of the company's technological expertise in shipbuilding and the reliability of the ships it has delivered resulted in the delivery of 300 vessels to MOL, which includes many historic ships with their innovativeness.

The "MOL COMPETENCE," the 300th ship delivered to MOL, features a service speed of 25 knots and measures 316.0 meters in length (overall), 45.6 meters in breadth and 25.0 meters in depth (molded). It is the fifth of a series of six ships ordered by MOL, all marking the world's first application of 47 kgf/mm2 HTSS in a merchant ship. The adoption of HTSS, along with an electronically controlled main engine and high-performance propellers, has enabled the ship to largely improve fuel efficiency. The new ships satisfy the customer's need for vessels offering high-speed cruising, optimal safety and fuel efficiency of a higher dimension, and they are thus highly competitive.

The 300 ships delivered to MOL are vessels of various types, ranging from oil tankers to passenger ships and cargo ships. As a front-runner in respective industries - maritime and shipbuilding, MOL and MHI have built many ships that are famed in maritime and shipbuilding history, titled as "Japan's first," "the largest" and "the fastest".

The first ship to MOL was the "CHIKUGOGAWA MARU," a cargo-and-passenger ship delivered in May 1890, which was Japan's first steel steam ship and led the steel ship construction technology thereafter. The "ONDO MARU," delivered in 1924, was Japan's first merchant ship that adopted diesel for its main engine. In speeding up, the cargo ship "KINAI MARU," from 1930, shortened the sea voyage between Yokohama and New York from 35 days to 26, and the "BROOKLYN MARU," from 1960, established a new record in trans-pacific navigation of 9 days, 6 hours and 53 minutes. The "FUJI MARU" of 1989, Japan's first full-fledged passenger cruise ship, and a similar ship, the "NIPPON MARU" of 1990, are still in service. The "EKAPUTRA," an LNG (liquefied natural gas) carrier from 1990, featured the world's largest tank capacity (137,012 m3) at the time it was completed. Now, having marked delivery of its 300th vessel to MOL, going forward MHI will further strengthen its development and construction of high-value added ships that respond diverse customer needs, leveraging its technological expertise established on its more than a century shipbuilding history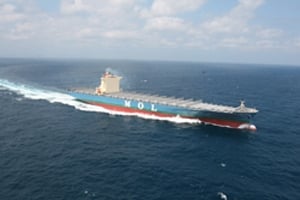 [ MOL COMPETENCE ]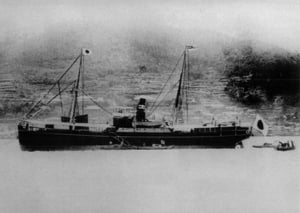 [ CHIKUGOGAWA MARU ]
---