Tokyo, April 4, 2008 - Mitsubishi Heavy Industries, Ltd. (MHI) has reached an agreement with the Harbin Group, one of China's three largest heavy electric machinery manufacturers, based in Heilongjiang Province, under which it will license technologies for major equipment used in pressurized water rector (PWR) type nuclear power plants (NPP), including steam turbines. With this agreement, which was signed on April 4 in Tokyo, MHI aims to respond, chiefly through collaboration with local companies, to China's quest to achieve domestic manufacture of this type of equipment in the future, while simultaneously also aiming at expansion of the company's NPP equipment business in the growing Chinese market. Earlier MHI provided the Harbin Group with 600 MWe (electric megawatt) class ultra-supercritical pressure steam turbine technology; the new agreement represents its first technology licensing to the Group in the nuclear power generation field.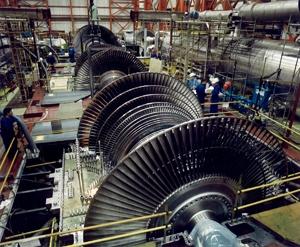 Under the agreement, MHI will provide its technologies to Harbin Turbine Co., Ltd. and Harbin Boiler Company Limited, both manufacturers of major electric power generation equipment and affiliates of Harbin Power Equipment Co., Ltd. (HPEC). The technologies to be licensed apply to 1,200 MWe-class large-size steam turbines for NPP use and major auxiliary equipment, including moisture separator reheaters, deaerators, main valves, condensers and feedwater heaters.

To date MHI, together with HPEC, has received orders for a total of four 1,200 MWe steam turbine generator (STG) packages: two units for the Sanmen NPP in Zhejiang Province in September 2007, and two units for the Haiyang NPP in Shandong Province in January 2008. The STG package includes MHI's most advanced high-performance, high-efficiency steam turbine with 54-inch class rotating blades. Initially MHI will manufacture the major turbine parts, and subsequently, based on the latest agreement, it will shift production to a Chinese partner in a phased manner.

China, in reflection of its outstanding economic growth, plans to increase its nuclear power generation capacity to 40,000 MWe by 2020, and in line with those intentions many new NPP construction projects are being launched. As a result, going forward great demand for NPP equipment and related technologies is expected.

The latest licensing agreement is highly significant for MHI as it further solidifies the company's foundation for full-scale entry into the Chinese market for newly built NPPs, which is expected to become increasingly robust in the coming years. At the same time, as MHI further develops its collaborative ties with the Harbin Group, it will also continue to strengthen its marketing activities targeting the rapidly growing Chinese market.
---
About MHI Group
Mitsubishi Heavy Industries (MHI) Group is one of the world's leading industrial groups, spanning energy, smart infrastructure, industrial machinery, aerospace and defense. MHI Group combines cutting-edge technology with deep experience to deliver innovative, integrated solutions that help to realize a carbon neutral world, improve the quality of life and ensure a safer world. For more information, please visit www.mhi.com or follow our insights and stories on spectra.mhi.com.