MHI to Strengthen Small Turbo Production Capacity to 6.9 Million/Year
By Fiscal 2011 through Tripolar Global Structure
Enabling Swift Customer Response Worldwide
Tokyo, March 31, 2008 - Mitsubishi Heavy Industries, Ltd. (MHI) intends to nearly double its production capacity in small-size turbochargers from the current 3.6 million units p.a. (per annum) to 6.9 million by the end of fiscal year (FY) 2011 (April 1, 2011 through March 31, 2012). The production capacity increase aims to respond to rapidly increasing demand for turbochargers amidst the widening adoption of tighter emission controls around the world.
To increase production capacity, MHI will add a new plant dedicated to turbocharger production at the Main Plant of the company's General Machinery & Special Vehicle Headquarters in Sagamihara, which serves as the "control tower" of its global operation. The company will also establish a new manufacturing company in Thailand and expand its plant in the Netherlands. With this tripolar production structure encompassing Japan, Europe and Asia, MHI will achieve the capability to respond promptly to demand from customers worldwide. The total investment outlay for this initiative, including land acquisition costs, is approximately 40 billion yen.
At the Main Plant in Sagamihara, MHI will secure 75,000 square meters (m2) in adjacent property that until now has been home to a parts center operated by Shin Caterpillar Mitsubishi Ltd. The new production plant here will have 33,000 m2 floor area. The aims are twofold: (1) to establish an effective and coherent production/distribution structure from acceptance of parts and material to processing, assembly and shipment; (2) to introduce new production lines enabling the capacity increase, while simultaneously integrating existing lines located separately. Under this initiative, annual production capacity in cartridges will increase by 800,000 units, to 3 million p.a.; the cartridge is the core portion of a turbocharger and includes the turbine rotors, compressor wheels and bearing units. Final assembly capacity will also be expanded, by 500,000 units, to 1.4 million p.a. The Main Plant will also strengthen its support to other bases as the mother factory and design center of development, design, production technologies, etc.
The new production base planned in Thailand will produce 2.5 million cartridges p.a. and will also support MHI's Main Plant in Sagamihara by producing and supplying major turbocharger components and parts to the company's global production bases. MHI has already secured 144,000 m2 of property within the Amata Nakorn Industrial Estate, near Bangkok, for this purpose. It has also completed the establishment of Mitsubishi Turbocharger Asia Co., Ltd. (MTA), a wholly owned local subsidiary, and is now constructing a production plant with 60,000 m2 floor area. The new Thai plant will also have the capacity to produce 500,000 turbochargers p.a. as finished products, and it will undertake sales and handle local activities in marketing as well as technical and quality assurance services.
MHI Equipment Europe B.V. (MEE), MHI's wholly owned subsidiary in Almere, the Netherlands, which functions as the company's production base in Europe, will strengthen its ability to respond to demand in the European markets, home to many of MHI's largest customers. Specifically, MEE's production capacity in turbochargers will be increased by 800,000 units to 2.8 million p.a., to be achieved by expanding its production plant by 6,900 m2.
In addition, other overseas production facilities, including those in China and Korea, will boost their production capacities. By these initiatives described above, MHI will achieve a global turbocharger production structure of 6.9 million p.a.
Demand for turbochargers, which enhance the combustion efficiency of automobile engines, remains robust globally, and going forward this trend is expected to gather further momentum amidst the widening adoption of tighter emission controls. It is to respond to this sharp increase in demand that MHI has decided on the investments and production capacity enhancements described above. With implementation of these initiatives, MHI looks to meet customer needs solidly with respect to both product quality and delivery speed. In the process, it targets to become the second-largest turbocharger manufacturer in the world, from current third, as early as possible, and aspires ultimately to be the leader.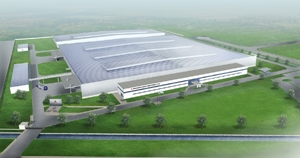 [ Mitsubishi Turbocharger Asia Co., Ltd.(MTA) ]
---
About MHI Group
Mitsubishi Heavy Industries (MHI) Group is one of the world's leading industrial groups, spanning energy, smart infrastructure, industrial machinery, aerospace and defense. MHI Group combines cutting-edge technology with deep experience to deliver innovative, integrated solutions that help to realize a carbon neutral world, improve the quality of life and ensure a safer world. For more information, please visit www.mhi.com or follow our insights and stories on spectra.mhi.com.