NEW TRENDS IN POWER GENERATION Energy Business Gas turbine
Extracting electrical power from a flame exceeding 1,500 degrees C
How is electricity generated at a gas-fired power plant? Within the gas turbine - the heart of the power plant - combustion gas reaches 1,500 degrees C(Note 1), hot enough to melt some metals. This hot gas races through the turbine, setting the special alloy turbine blades in rotation at speeds of over 3,000 rpm. This rotational energy is converted to electricity by the power generator fixed on the end of the turbine shaft.
MHI's benchmark G-Series gas turbine generates around 330MW(Note 2) of power, sufficient to provide electricity to 40,000 homes(Note 3).
Once in operation, our turbines are expected to constantly provide electricity, hence their need to show ultimate toughness and reliability.
1

Combustion gas exceeds 1,500 degrees C in the G-Series gas turbine, which is MHI's core product, and 1,600 degrees C in the J-Series gas turbine, the world's highest inlet temperature

2

When using the 50Hz 701G-Series turbine (Note 3) Calculated based on one household of four people and using 2kW
Above:A rotor - the rotating part of the gas turbine is under construction, which consists of several stacked ring-shaped parts. Subsequently, an operation of attaching the turbine blades will follow. Takasago Machinery Works, Hyogo Prefecture
Ingenious Skills that Overwhelmed the world World-class skills reflecting technique and monodzukuri
Although renewable energy power generation has recently attracted attention, thermal power generation, which has long been supporting power supply, is also making tremendous progress in efficiency. Perhaps the most prominent example is the J-Series gas turbine, which achieved an inlet temperature in the 1,600 degrees C class. The J-Series turbine can be applied to "Gas Turbine Combined Cycle (GTCC) power generation" that conducts secondary power generation by a steam turbine, utilizing the exhaust heat expelled after rotating the gas turbine. This application realizes the world's highest thermal efficiency (exceeding 60%)(Note) and generating power (460MW). This accomplishment, which paves the way for new applications in the field of thermal power generation, would have been impossible without ceaseless efforts to research technology coupled with abundant experience.
The ratio of electric energy (power generation) which can be effectively produced from thermal energy via burned fuels. For example, the thermal efficiency for a gasoline-powered car would be in the 30% plus range.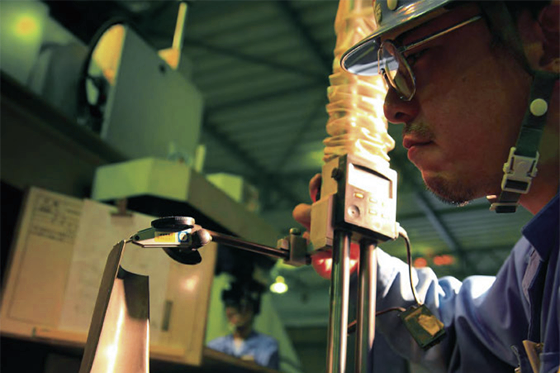 One by one, with painstaking care, a worker using a specialized tool verifies the flawless machining of countless blade surface cooling holes created on the turbine blade via electro spark machining. Indeed, measures to cool the blades, which are continuously exposed to combustion gas heated to over 1,500 degrees C for an extended period, are vital and cooling hole processing is one effective example. The high cooling effect is produced by ventilating a hollow-cavity blade with microscopic holes of 1 to 2mm in diameter, enabling cool air to circulate within and around the blade. Takasago Machinery Works, Hyogo Prefecture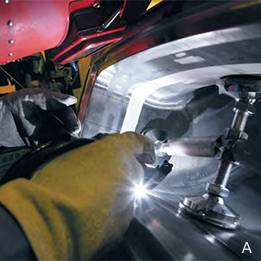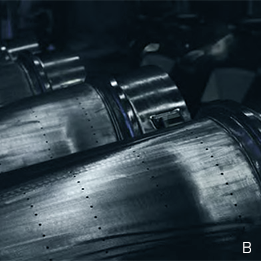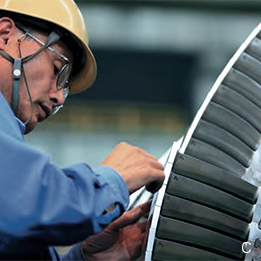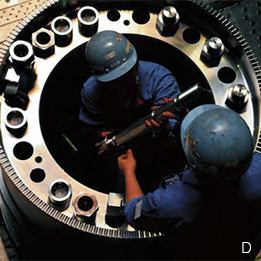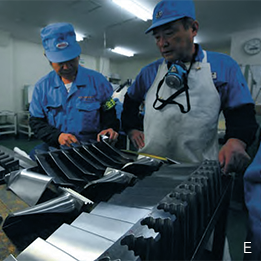 Wisdom Throughout Building safer plants with knowledge of the entire process
MHI leads the world in cutting-edge gas turbine development with a professional expertise of exceptional scope and depth, covering the entire plant development and production process. For GTCC, MHI exclusively undertakes development and manufacturing work beginning with the duct that channels the hot exhaust gas from the gas turbine. From there, the hot exhaust gas travels to heat recovery boilers that convert water into steam. Finally, the steam is used to power a steam turbine and its associated generator. Furthermore, MHI is boosting efforts for a safer power generation by aligning all facilities and ensuring optimal balance, namely performing product verification via the verification facility of GTCC, plant-wide piping work, module welding, and control and prevention. This comprehensive capability showcases MHI's true value.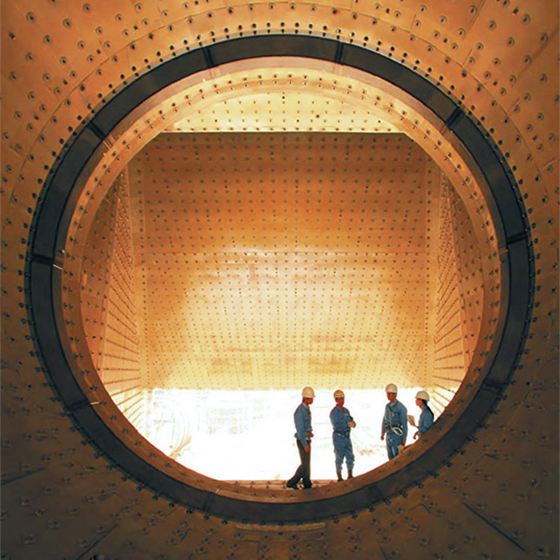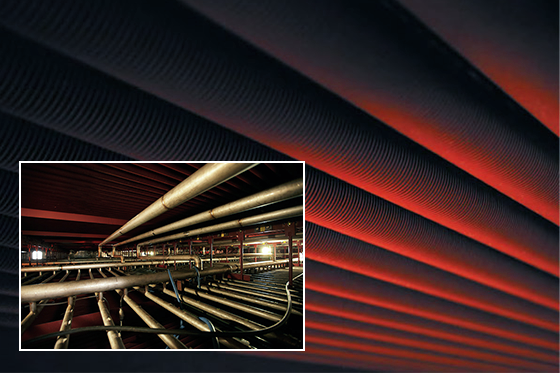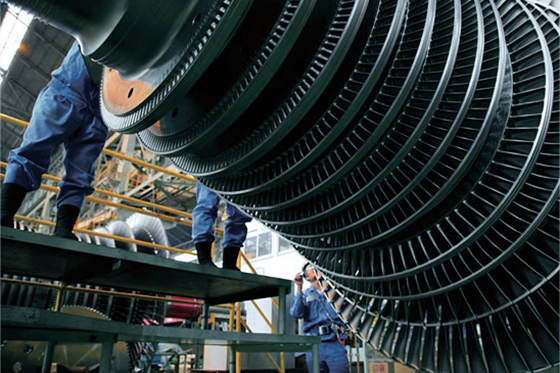 Conveying Electricity To The World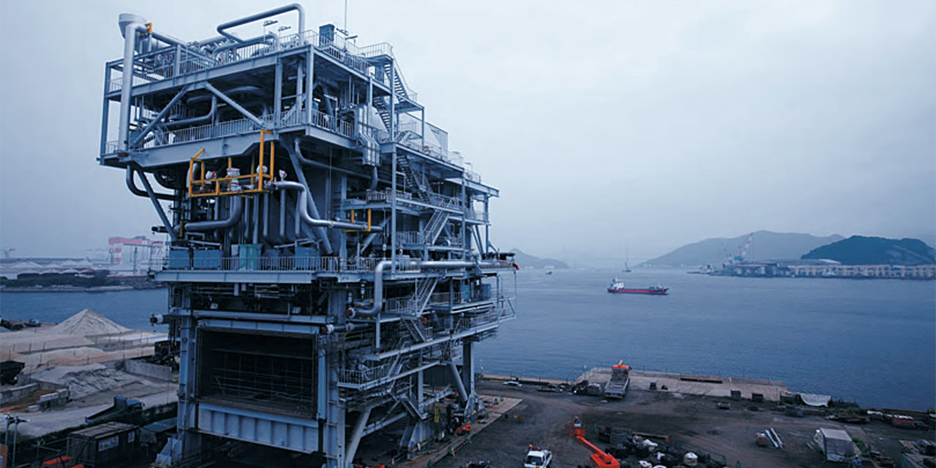 New Dimensions of Quality and Capability Challenge Next-generation Gas Turbines.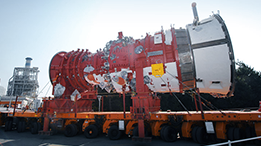 The development of gas turbines is a fight against "heat." Since power generation efficiency improves with increased combustion temperature of fuels channeled into turbine blades, CO2 emission per unit output can be reduced. MHI has continued to pioneer turbine development, starting from the DSeries turbine in the 1,200 degrees C class, followed by the F- and G-Series at 1,400 and 1,500 degrees C classes, respectively. Finally, MHI is set to launch the state-of-the-art J-Series turbine, boasting a turbine inlet temperature of 1,600 degrees C in the very near future. Indeed, breaking an incremental 100 degrees C barrier in this temperature range is truly a challenge. To do so, MHI applied not only the F- and G-Series gas turbines' high temperature design technology but also gas turbine element technology in the 1,700 degrees C class developed through a Japanese national project - in particular turbine cooling, heat-shield coating and high-performance turbine technology. In addition, the cutting-edge J-Series technology can be widely applied to existing F- and G-Series turbines, both of which can then benefit from ever-greater performance and reliability. In a sense, this means that most MHI gas turbines can become state-of-the-art, rapidly advancing in efficiency and reliability.
Worldwide Delivery of Advanced Japanese Power Generation Technology through Globalization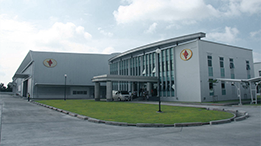 GTCC is expected to grow in both advanced and emerging countries in the future. As well as fuel efficiency alone, other reasons include the discovery of low-cost unconventional gas (shale gas) and growing demand for alternatives to coal-fired power generation.
Although thermal power generation involves environmental concerns, with the cutting-edge J-Series gas turbines employed in GTCC power generation systems, environmental loads could be mitigated, reflecting a project to successfully curb CO2 emissions by 50% over conventional coal-fired power generation. However, no matter how such outstanding power generation technology is developed and obtained, failure to ensure its global penetration and use would see it lose all significance. This is the catalyst behind MHI's proactively promoted global launch, including the establishment of local factories and a joint venture for the international market.
To cite recent examples, a factory in North America to meet demand for power generation systems and one to repair hot turbine parts for the Asian market were completed in the U.S. (Georgia) and Thailand, respectively. These initiatives will both reduce cost and enable prompt and highquality service. MHI is well underway towards establishing a foundation to ensure the smooth global delivery of Japanese high technology standards.
MHI's Power Generation Technology - Contributing to All Future Energy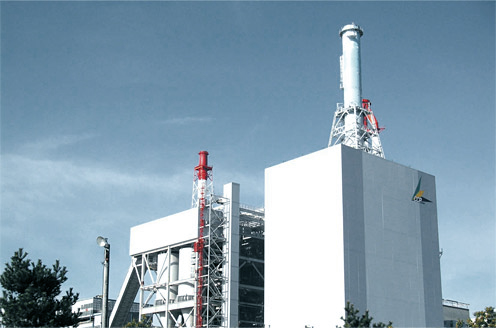 What will be the mainstream of future power generation? The prospects vary greatly based on the resources obtained by each country and region as well as individual environmental policies. With this in mind, the scope of active fields for MHI, familiar with a diverse range of power generation technology, including thermal power generation - the core of electric power supplies - and nuclear power generation, will continue to expand.
For example, in the field of Integrated Gasification Combined Cycle(IGCC) power generation, fueled by abundant coal for gasification, MHI has achieved globally unrivalled efficiency. In addition, in the field of renewable energy power generation, MHI's technology can also be harnessed for all power generation requirements, including wind power generation and the growing demand for geothermal power generation, in which MHI is a top-class global provider.
MHI's reason for developing such wide-ranging products and technologies lies not only in the interest of business, but also in the desire of each MHI employee to contribute to providing a stable global electricity supply to support society's needs and activities.
MHI embraces this sense of mission as we look towards our energy future and its evolving technologies.