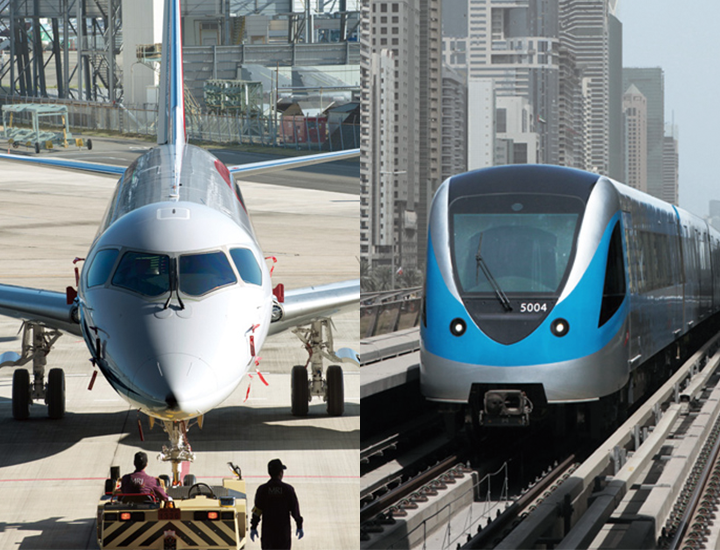 In the Skies and Cities the World Over
Trains, airplanes and other means of travel are indispensable for connecting people and places each day. As our daily lives grow increasingly complex, MHI Group products satisfy diverse transportation infrastructure needs. The MRJ (Mitsubishi Regional Jet), the first new commercial passenger jetliner designed and produced in Japan in 50 years, and new urban and interurban transportation systems have emerged as a boon for the modern era. MHI Group's technological prowess, concern for passenger welfare and environmental quality, and passion for innovation permeate these products.
Photo left:Nagoya Aerospace Systems Works, Komaki South Plant in Aichi Prefecture
Photo right:Dubai Metro, UAE
Where Expertise Transforms the Dream into Reality
The MRJ Introduces New Values in Global Air Travel
The excellence of Japanese aerospace technology is widely recognized, yet original airliner development has taken a back seat since the YS-11 turboprop airliner flew for the first time in 1962. A revival of the Japanese commercial aviation industry has long been the dream of many. The 50-year wait is over. With the Mitsubishi Aircraft Corporation's MRJ project, the enduring dream comes true. The MHI Group has established a dominant presence in the aerospace industry, and the new regional jet represents the crystallization of its technological know-how and leadership. The MRJ applies cutting-edge aerodynamics, Pratt & Whitney's revolutionary PurePower® PW1200G engine (See Leading Player) and other features to cut fuel consumption by more than 20 percent over current designs. While lower operating costs boost airline competitiveness and profitability, the MRJ also stresses convenience by expanding routes. In addition, better fuel efficiency mitigates environmental factors. And the MRJ seeks, through its welcoming cabin arrangement, wide aisle, and comfortable seats, to reverse the common conception that equates smaller jets with passenger discomfort.
The MRJ -- proudly "Made in Japan" -- exudes both aesthetic and functional beauty, holding the essence of MHI Group's passion, earnestness, and strength in organizing participating global companies and technologies for the benefit of passengers and customers.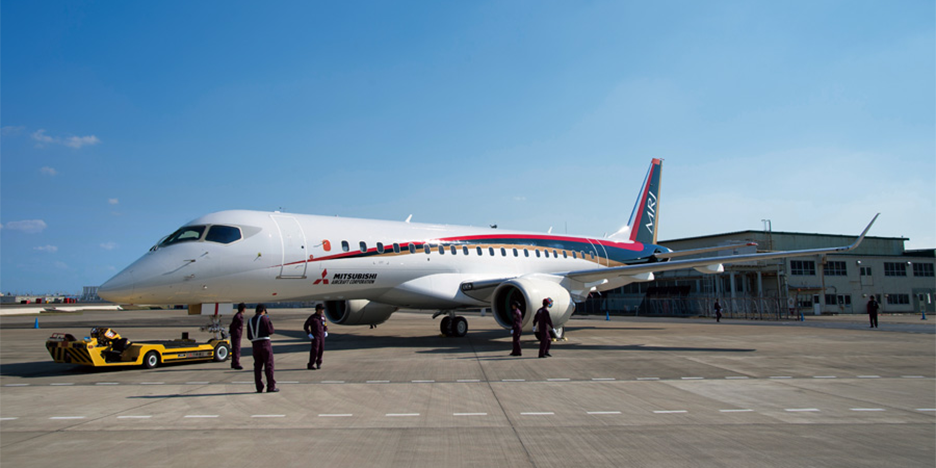 Crystallization of Technology and Leadership

The MRJ comprises about a million components - around 30 times that of a passenger vehicle. Talent for organizational and technological acumen based on decades of experience successfully came to fruition in this project.

Unmatched Consideration Given to the Passengers and the Environment

The slim seat affords ample width and head and foot clearance. There is plenty of storage capacity, too. The MRJ meets the latest noise regulations and emission requirements. Lower fuel consumption translates to marked operational efficiency.

Carefully Calculated Functional Form

The elongated sharp nose gets its inspiration from the Japanese sword. The fuselage embodies functionally superior elegance. The newest aerodynamic design allows for a small outside diameter and reduces air resistance.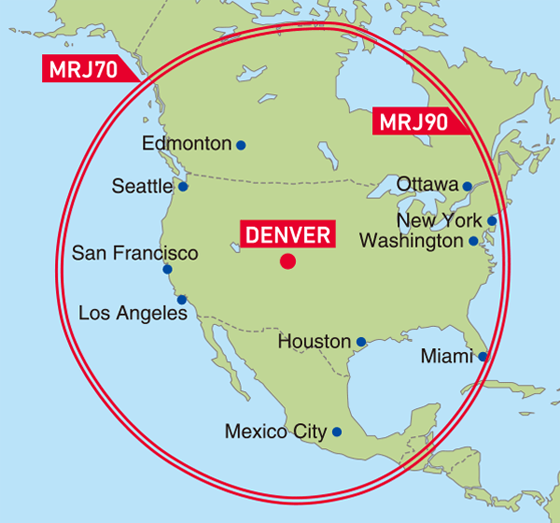 Maximum Range of about 3,300km
Expanding Regional Airline Networks for Smooth Air Travel
With a maximum range of around 3,300 kilometers, the MRJ can fly from Tokyo directly to Shanghai or Guam. It can cover almost all of North America with Denver at the center. The range capability is expected to expand the number of direct flights connecting local airports.
The MRJ will be available in two versions depending on passenger numbers.
For enriched and comfort cities of the world,
People and environment friendly "transportation system"
In emerging countries where urbanization has been progressing, they faces severe traffic problems now. This requires the development of transport infrastructure urgently, and among them, demand for environmentally friendly transportation systems is rising.
The new transportation system "AGT (Automated Guideway Transit)" developed by the Mitsubishi Heavy Industries Group is superior to conventional railway systems in terms of unmanned operation, rubber tire running (low vibration, low noise), freedom of route planning (which can be laid in the city), low power consumption, and low construction costs. These advantage has been appreciated, and it is adopted in cities and airports around the world including Japan.
Moreover, the highest speed, which was the only weak point in 2014, with the new transportation system achieved the world's fastest 120 km / h, and the system overcame its weakness.
In addition, with the seat "G-Fit" developed based on ergonomics, it enables to move comfortably without stress. In addition, in order to provide excellent Japanese transportation systems globally, the Mitsubishi Heavy Industries Group established the MIHARA Test Center (abbreviated as MTC), the first domestic transportation system verification facility in Japan in 2014. With its compatibility of international standards and its usability of internally and externally of the company, it is expected to become the key to raise the Japanese transportation system industry.
In this way, the transportation system of the Mitsubishi Heavy Industries Group has technological strength shown in the test center and own developed vehicles, the friendliness for environment and passengers, and functional beauty from its advanced design.
Support railway safety / high speed driving
"Air Controlling Equipment" (air brake system)
In 1924, the Mitsubishi Heavy Industries Group started manufacturing air controlling equipment for steam locomotives.
As a core of social infrastructure, the mission of the railroad that supports mass transportation shall be operated safely and timely at every era, and its institutional power has evolved from steam to diesel and electricity. Along with that, an air-conditioning system that stops the train safely and surely (a brake using air force System) has also evolved.
In collaboration with the research department, the Mitsubishi Heavy Industries Group reflects materials, analysis, simulation and quality engineering in the research and verification of each field to its products in a timely manner.
For air-conditioning equipment installed in AGT manufactured by MHI, running test and pre-shipment verification are conducted at MTC.
Our company's airborne control system started with a steam locomotive, and now supports the backbone of the Japanese Islands from N700A Tokaido Shinkansen to all.
Other Shinkansen of Hokkaido, Tohoku, Sanyo, and Kyushu.
As we continue to improve our technologies to earn the trust of railway operators and users, our domestic market share has reached 50%.
In this way, the MHI group's air-conditioning system continues to support the safe and punctual operation of the railway system with its technical strength without being noticed.