MHI Group's Declaration to achieve Carbon Neutral by 2040
2040 Carbon Neutrality Declaration
We hereby make the declaration of achieving Carbon Neutrality by 2040. 
MHI has defined two growth areas to focus on in its 2021 Medium-term Business Plan, announced last year: "Energy Transition," which aims to decarbonize the energy supply side, and "Smart Infrastructure", which aims to realize the decarbonization, and promote the energy efficiency, manpower saving in the energy demand side. MHI Group is committed to promoting the business strategies of these two areas, and to advancing the decarbonization of the existing businesses, electrification, and intelligence, in order to achieve Net Zero by 2040, and to help create a Carbon Neutral society.
Realizing a Carbon Neutral society is a global issue and we believe that as a technology leader, with a proven track record in the field of decarbonization, it is MHI's responsibility to help lead the fight against climate change.
To this end, each and every one of us will be embracing and internalizing "MISSION NET ZERO" and will act to implement a "Net Zero" future, working closely with all of our stakeholders, including clients, partners, academia and local and national governments.


1. CO₂ Emission Reduction Target

Scope 1&2: The calculation standard is based on the GHG Protocol.
Scope 3: The calculation standard is based on the GHG Protocol. However, we also account for reductions achieved by CCUS as an MHI original index.
2. Roadmap to Achieve Carbon Neutrality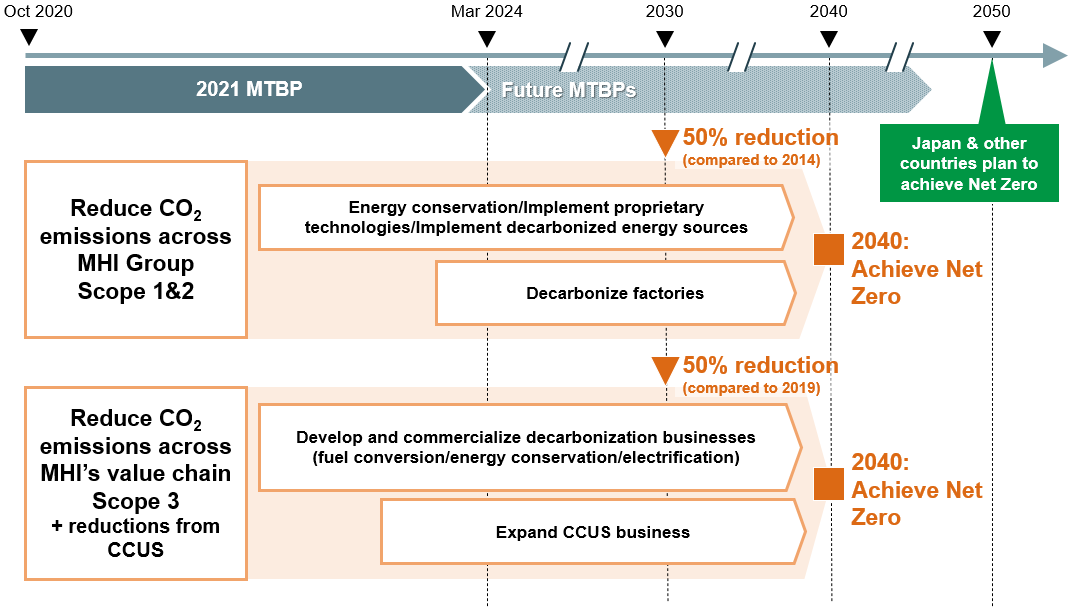 3. Contributions to Customers' Scope 1&2 Reductions
・Offer a variety of solutions to reduce CO2 emissions from our customers' existing facilities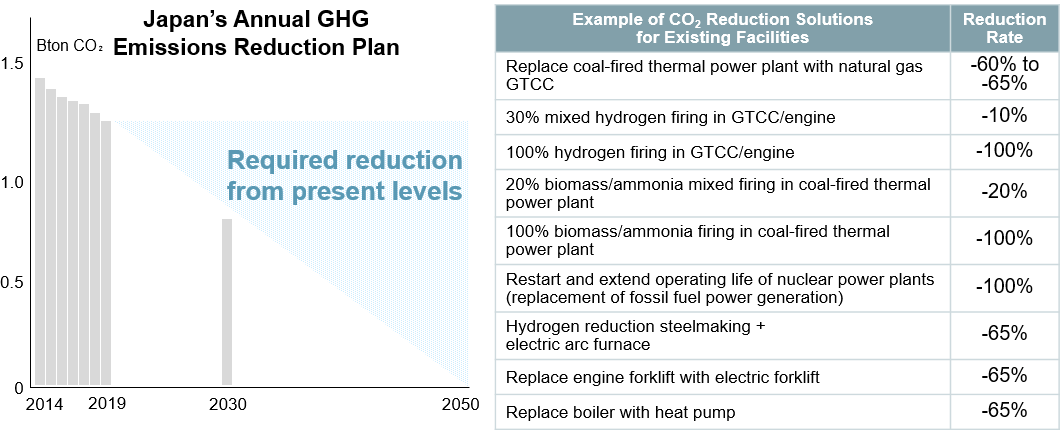 Scope1, 2
・Scope 1 represents CO2 emissions arising directly from MHI Group's operations (fuel combustion and industrial processes). Scope 2 represents indirect CO2 emissions, mainly from electricity consumption.
・Calculations are based on the GHG Protocol. However, emissions from our combined cycle demonstration plant (Takasago Machinery Works) and Nakoso and Hirono IGCC plants are included in Scope 3
・Main assumptions include reduction in electricity emissions in accordance with Japan's CO2 emissions reduction targets and some degree of hydrogen and CO2 solutions ecosystems development
Scope3+reductions from CCUS
・Scope 3 represents indirect CO2 emissions arising from other companies across our value chain excluding that covered by Scope 1 & 2. This Scope includes 15 categories, approximately 99% of which comprise CO2 emissions arising from the use of MHI Group products, which are targets for reduction efforts.
・Calculations are based on the GHG Protocol. However, we also account for reductions achieved by CCUS as an MHI original index.
・Based on the GHG Protocol, total CO2 emissions expected over a product's lifetime are recorded during the year in which it was sold.
・Main assumptions include the active adoption of carbon-free products by each company in accordance with each country's CO2 reduction goals as well as some degree of hydrogen and CO2 solutions ecosystems development