"G-Fit" Railway Seat Wins "Good Design Award 2014"
-- Innovative Design Reduces Passenger Fatigue and Contributes to Improved Etiquette on Urban Transit Systems --
Tokyo, October 1, 2014 - The "G-Fit," a railway car seat designed and manufactured by Mitsubishi Heavy Industries, Ltd. (MHI), has won a "Good Design Award 2014" in the annual award program operated by the Japan Institute of Design Promotion (JDP). The G-Fit, which is adopted on the new 7300-series trains running on the automated guideway transit system "Yurikamome" operating along the Tokyo waterfront, offers a number of features deemed ideally suited to the needs of next-generation urban transit systems.
Today's urban railway transportation systems typically adopt longitudinal seats that enable more space for the central corridor and standing passengers, for effective and flexible passenger conveyance. Conventional seats of this type have featured a low-back design that has offered the user minimal upper-body stability against swaying when the train accelerates, decelerates or veers on curves. MHI's newly developed G-Fit has significantly enhanced upper-body stability through the adoption of a bucket-seat type backrest that extends to shoulder height, combined with tilting of the seat frame 15 degrees rearward. The seat front has also been slightly elevated to achieve a natural sitting position causing the seated passenger to pull in the heels, making it difficult to splay the legs. In these ways the G-Fit has been designed to reduce fatigue, ensure privacy and improve seating etiquette on urban railway transit systems.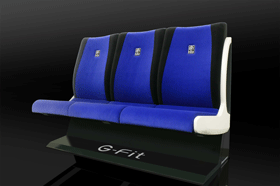 Dimensions: seat width 460mm, seating width 449mm, backrest height 581mm
In selecting the G-Fit for a "Good Design Award 2014," the JDP judging panel cited its innovative design offering comfort of a level not provided with conventional railway seats. The seat was acclaimed for its success in giving the passenger a natural body-hugging fit achieved by analyzing the swaying characteristic of all moving vehicles, focusing on how to secure a stable seating position, and optimizing the seat's back-holding point. The judges were quoted as saying the G-Fit is a design likely to become the new standard for public transport system seating.

The G-Fit, together with other 2014 Good Design Award winners, will be introduced at the "Good Design Exhibition 2014" to be held at Tokyo Midtown from October 31 (Fri) through November 4 (Tue).

The Good Design Awards are Japan's only comprehensive design evaluation and commendation program. The system has roots tracing back to the "Good Design Products Selection System" launched in 1957, and in its more than half-century in operation over 39,000 awards have been granted in recognition of designs that make positive contributions to the enhancement of Japanese industry or everyday living. Today the Good Design Awards program enjoys global scale with participation of numerous businesses, organizations, etc. from all around the world. The "G Mark," the symbol only award winners can display, is a widely familiar logo indicative of outstanding design.
---