Tokyo, November 17, 2008 – Mitsubishi Heavy Industries, Ltd. (MHI) has agreed to serve as a sponsor of IRB Rugby World Cup (RWC) Sevens 2009, an international tournament to be held in Dubai in March 2009. The company will sponsor the event as part of its international corporate social responsibility (CSR) activities.
The IRB RWC Sevens tournament, which was inaugurated in 1993 and is governed by the International Rugby Board (IRB), is one of the world's largest sporting events. The games are held every four years, and the Dubai rounds will be the fifth in the event's history. From March 3 through March 5, 24 men's teams and 16 women's teams will compete. The Dubai event will be the first tournament to include a women's competition. The IRB expects more than 100,000 spectators.
The Principal Partner of IRB RWC Sevens 2009 is Emirates Airline, one of the fastest-growing international airlines in the world based in Dubai. While various international firms have responded favorably to the invitation by the Emirates Group to become program partners and sponsors, MHI is the only Japanese company to join. Television broadcasting of the tournament is planned in more than 10 countries, including Japan.
Dubai has quickly developed into a global hub of trade, finance, distribution and travel. MHI opened its Middle East Representative Office in Dubai in 2006. In 2005 and 2006, the company received successive orders from Dubai Municipality for Phase I and Phase II construction of a fully automated, driverless rail transit system: Dubai Urban Rail Transit, or Dubai Metro, to span a total length of approximately 70 kilometers.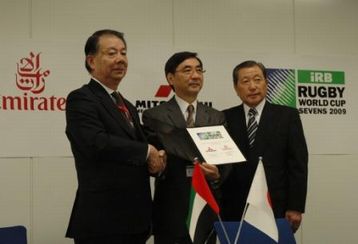 [ At the signing ceremony of IRB Rugby World Cup Sevens 2009 sponsorship ]
---
About MHI Group
Mitsubishi Heavy Industries (MHI) Group is one of the world's leading industrial groups, spanning energy, smart infrastructure, industrial machinery, aerospace and defense. MHI Group combines cutting-edge technology with deep experience to deliver innovative, integrated solutions that help to realize a carbon neutral world, improve the quality of life and ensure a safer world. For more information, please visit www.mhi.com or follow our insights and stories on spectra.mhi.com.