Tanegashima Island, where the MHI Group undertakes its rocket launches, is a precious place where loggerhead turtles, an endangered species, regularly come to spawn. In view of this connection, since 2015, in order to protect and preserve the island's biodiversity, the MHI Group has been cooperating with the NPO Earthwatch Japan in surveys targeted at protecting loggerhead turtles.
On November 11, the MHI Group organized a science class at the Mitsubishi Minatomirai Industrial Museum, in Yokohama, on the connections between rocket launches and marine turtles. To conduct the class, the Group called on Yoshimasa Matsuzawa (PhD), Regional Vice Chair of the Marine Turtle Specialist Group, an NPO well known for its research on marine turtles. Mr. Matsuzawa is the leader of the team that regularly undertakes the Tanegashima Loggerhead Turtle Survey. The science class-the third of its kind held to date, following last year's class given at the Suma Aqualife Park in Kobe—attracted some 120 participants, ranging from third-grade elementary schoolers to adults.

Mr. Matsuzawa explained what kind of animal marine turtles are, what biodiversity is, what connections exist between space development and marine turtles, and what the Tanegashima Loggerhead Turtle Survey is all about. His explanations were very easy to understand, mixed with enjoyable quiz questions. The participants in the class came away with various impressions. "Now I have a good understanding of the relationship between marine turtles and rockets," one said. "I'd like to study more about marine turtles," commented another. Several participants expressed interest in making a visit to Tanegashima, while others voiced their encouragement for the success of future surveys.

The Tanegashima Loggerhead Turtle Survey will continue in FY2018. NPO Earthwatch Japan is planning to recruit general volunteers through its website, so please refer to the following URL if you are interested.


For details of the recruitment / survey program, please refer to the following URL. (The outline of the survey for FY2018 will be released around mid-March.)
Description of the June-July 2017 survey of parent marine turtles: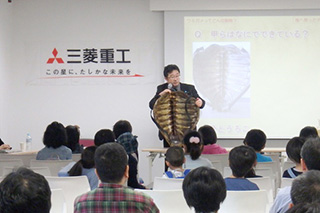 Mr. Matsuzawa showing a marine turtle specimen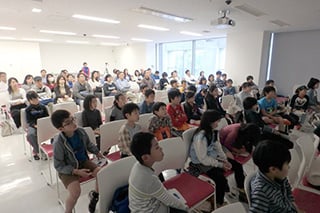 The participants all listened with great interest.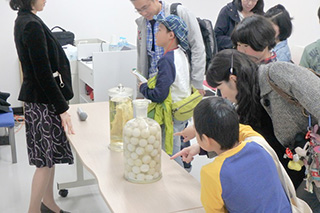 Observing marine turtle eggs and esophagi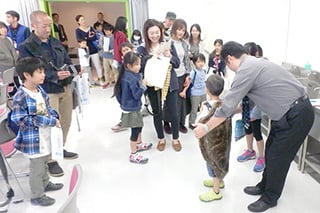 Taking photos "wearing" a marine turtle's shell
---