As part of its social contribution activities, Sagamihara Machinery Works aims to provide opportunities for local children to interact with agricultural crops in familiar places, and the company has organized farm work experience sessions for young nursery children near the works since 2013.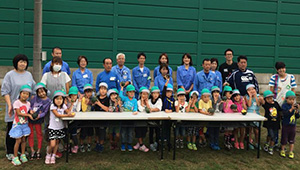 On October 4, Sagamihara Machinery Works invited 22 nursery children to take part in a pumpkin harvest experience session for pumpkins that had been planted at the end of June in a field located adjacent to the works' rugby ground.
The children, who carried out the harvesting work together with employee volunteers and nursery school teachers, were amazed by the large pumpkins, and wanted to eat their souvenir pumpkins as soon as possible.
After experiencing farm work, the rugby club secretariat served as a lecturer and held a class on tag rugby. The children played games using rugby balls, ran around the large grounds getting lots of exercise, and enjoyed the fun of tag rugby.

The MHI Group will continue to proactively engage in community-based social contribution activities based on the CSR Action Guidelines "Create a more harmonious society" and "Inspire the future."
[Related news]
Planting pumpkin seeds in late June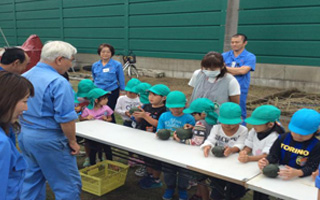 Children harvesting pumpkins by hand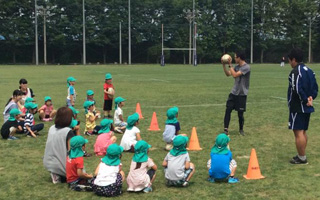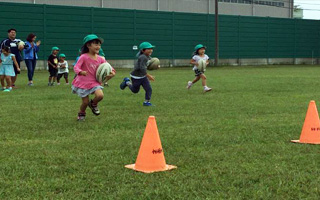 After the farm work experience, the children played tag rugby
---