Since 2012, Mitsubishi Heavy Industries (MHI) has co-sponsored a science class with Hitachi Science Club, a nonprofit organization of mainly retired Hitachi employees based in Hitachi City, Ibaraki. The classes are held each year, alternating between Hiroshima and Hitachi City, and aim to get elementary and junior high school children interested in science and the fun of "monozukuri" (the traditional Japanese concept of craftsmanship).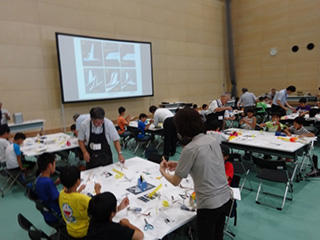 On August 18, the "Sixth Hitachi - Mitsubishi Science Class" was held at the Ikenokawa Sakura Arena in Hitachi City for 44 fourth to sixth graders.

MHI, who were in charge of the first lesson, used the theme "Let's make and fly airplanes - the MRJ" with the cooperation of the general incorporated association DIRECTFORCE. In the lesson, the children fabricated models of the MRJ from pattern paper. After hearing about the history and construction of airplanes, and studying the principle of flight by observing the flow of air using a hair dryer, the students further improved their paper airplanes and then took part in a contest to compete for the longest flight distance.
The next lesson was given by Hitachi Science Club on the theme of "cup motor construction." The children learned about the mechanism of motive power by moving a handmade motor using a plastic cup and experimenting with electromagnets. Finally, the children raced various racing cars produced by Hitachi Science Club on a model race track. As they cheered on their cars in the exciting races, they learned that differences in motor power make a big difference to the car's speed.
Students who attended the classes offered a variety of comments. "I understood how planes fly." "It was enjoyable in a different way to school classes." "I want to make racing cars using motors." "I like science now."

Going forward, we will continue to convey the fun of science to children through "monozukuri" as part of our contributions to our local communities and the development and support of future generations.
[Science class related news]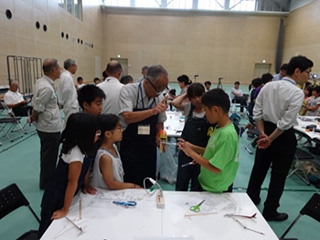 Wind resistance test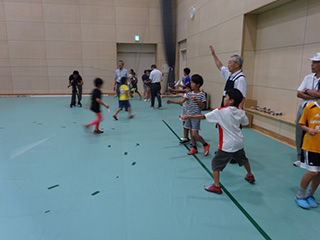 Flight distance contest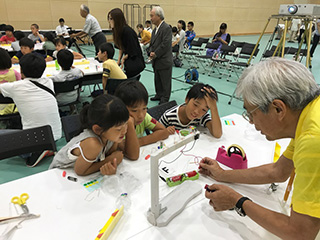 Experiment with electromagnets
Handmade racing car contest
---
About MHI Group
Mitsubishi Heavy Industries (MHI) Group is one of the world's leading industrial groups, spanning energy, smart infrastructure, industrial machinery, aerospace and defense. MHI Group combines cutting-edge technology with deep experience to deliver innovative, integrated solutions that help to realize a carbon neutral world, improve the quality of life and ensure a safer world. For more information, please visit www.mhi.com or follow our insights and stories on spectra.mhi.com.