Mitsubishi Heavy Industries, Ltd. (MHI) held its annual summer holiday event, "26th MHI Shinsen Summer School" (co-host: Port of Kobe Japan) on August 3 and 4 at the Kobe Shipyard & Machinery Works as part of its CSR activities. The event aimed to raise interest among children who will lead the next generation in monozukuri - the traditional Japanese concept of craftsmanship - and advanced technology through a science class and factory tour. Around 200 elementary school students from fourth to sixth graders and their guardians took part over the two days.
First, Mr. Inaba of the Kodomo Uchu Mirai Association was invited to give a science lesson on the theme of "Let's think about how rockets fly," and spoke about how heavy rockets fly and why satellites stay in orbit. After Mr. Inaba's lecture, the children made rockets from long plastic bags used to hold umbrellas and conducted repeated experiments to make them fly straight and far.
Next, the children visited the factory and observed a robot that performs work by remote control in places where humans cannot enter, and a support robot that is worn on the body to reduce the load when lifting, and is used by people such as nursing care workers.
 
The participants made comments such as, "I thought that it was amazing how various technologies are utilized in rockets," "I enjoyed making the rocket and doing the experiments," and, "I learned that there are various types of robots, and they all help humans."
 
The MHI Group will continue to communicate the joy of science to children through monozukuri as part of its contribution to local communities and development of the next generation.
Science class related news: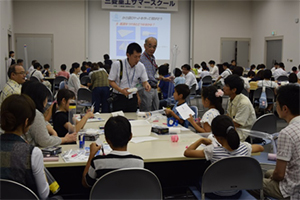 Children learning how to make rockets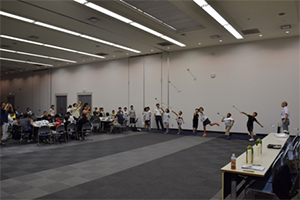 Children launch their completed rockets!
---
About MHI Group
Mitsubishi Heavy Industries (MHI) Group is one of the world's leading industrial groups, spanning energy, smart infrastructure, industrial machinery, aerospace and defense. MHI Group combines cutting-edge technology with deep experience to deliver innovative, integrated solutions that help to realize a carbon neutral world, improve the quality of life and ensure a safer world. For more information, please visit www.mhi.com or follow our insights and stories on spectra.mhi.com.