MHI Group Employees Serve as Volunteers at Shiki Theatre Company's "Theater of the Heart" Performances in Takamatsu
Since fiscal 2013, in line with its CSR Action Guidelines and their commitments to "create a more harmonious society" and "inspire the future," the MHI Group has supported the Shiki Theatre Company's "Kokoro no Gekijo" (Theater of the Heart) musical productions aimed at cultivating a richness of spirit among children of the next generation from its local communities. Group employees, as well as their family members, regularly assist as volunteers at the troupe's performances near their workplaces.
On February 15 and 16 four Group employees and family members provided operational assistance at morning and afternoon performances by the Shiki Theatre Company of the musical "The Prince and the Pauper" at Sunport Hall Takamatsu in the city of Takamatsu in Kagawa Prefecture, Shikoku. Prior to each performance they ushered the young guests to their seats. The four performances were enjoyed by a total of 4,301 sixth-grade students from 55 elementary schools in Takamatsu and the surrounding area.

The volunteers said that by participating they had gotten a rare glimpse into what goes on behind the scenes of a performance, gaining insight not possible by just watching a show. "I'd never been a volunteer like this before," one offered, "and on a personal level it was a wonderful experience." "Seeing all the hard work that goes on backstage changed how I'll view performances like this in the future," commented another.

The MHI Group is strongly committed to continue actively supporting children of the next generation through activities of this kind.
Related news from this year: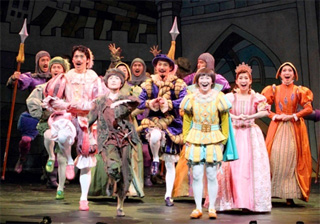 The Prince and the Pauper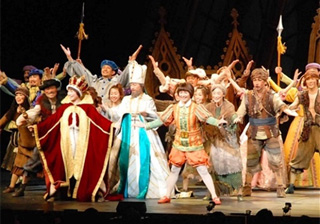 Curtain call
---