MHI Group Employees and Family Members Serve as Volunteers at the "Theater of the Heart" Performance in Sagamihara
Since fiscal 2013, in line with its CSR Action Guidelines and their commitments to "create a more harmonious society" and "inspire the future," the MHI Group has supported the Shiki Theatre Company's "Kokoro no Gekijo" (Theater of the Heart) musical productions aimed at cultivating a richness of spirit among the children of the next generation. Group employees, as well as their family members, have regularly assisted as volunteers at the troupe's performances near their workplaces, helping with the practical aspects of putting on the shows. Again this year MHI is calling for volunteers, starting with the performance at Sagamihara (Kanagawa Pref.) on May 18, to be followed by other venues around the nation in Hokkaido, Sendai, Tokyo, Yokohama, Nagoya, Hyogo, Hiroshima, Shimonoseki and Nagasaki.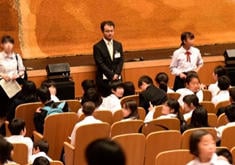 At the performance in Sagamihara, four MHI Group employees and their family members provided operational assistance such as ushering guests to their seats. Approximately 3,100 students, all first-year junior high schoolers, attended, and as they entered they spontaneously greeted the volunteers. The volunteers were extremely pleased to see how well-behaved the children were, and they felt reassurance in the future of tomorrow's adults.

In response to the help provided by the volunteers to enable the smooth operation of their "Kokoro no Gekijo," the staff members of the Shiki Theatre Company spoke of the troupe's strong desire to play a role in giving all children a rewarding experience that will contribute to their emotional growth. "For some children, today's show may be the only chance in their lives they'll see a real performance on stage," one member commented, "so we want the experience to be a memorable one." For the volunteers who bore witness to this experience, the day also proved to be a highly valuable occasion.

In the years ahead, the MHI Group will continue, in many ways, to provide proactive support of the children of the next generation.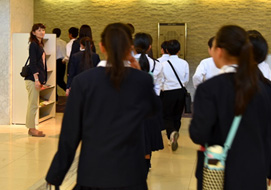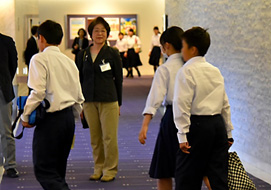 The volunteer ushers received hearty greetings from the children.
---
About MHI Group
Mitsubishi Heavy Industries (MHI) Group is one of the world's leading industrial groups, spanning energy, smart infrastructure, industrial machinery, aerospace and defense. MHI Group combines cutting-edge technology with deep experience to deliver innovative, integrated solutions that help to realize a carbon neutral world, improve the quality of life and ensure a safer world. For more information, please visit www.mhi.com or follow our insights and stories on spectra.mhi.com.