On March 15 (Tue) the number of visitors to M's Square, the Company's showroom on the second floor of the Shinagawa Head Office Building, who have exchanged handshakes with the wakamaru communication robot reached 8,000. Under MHI's "wakamaru gift" initiative, based on the number of handshakes the MHI Group makes monetary donations to support the earthquake and tsunami recovery effort in the Tohoku region. The lucky 8,000th handshake with wakamaru was exchanged with two university students, Mr. Tokuda and Mr. Goto.
To date, the number of handshakes with wakamaru has resulted in donations totaling 2.4 million yen. The money is being put to good use to fund various events supporting Tohoku's recovery, a project to cultivate seedlings for creating green spaces as a disaster-prevention measure, and activities to help nurture the next generation.

Many people who have cooperated in this campaign have expressed their joy at being able to help in the Tohoku recovery effort. We wish to take this opportunity to thank everyone who has participated in "wakamaru gift." wakamaru will be retiring on March 31, so we invite everyone to come and greet him, and shake hands, through the end of this month.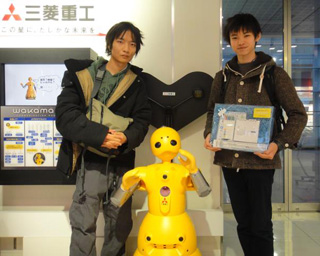 The lucky 8,000th wakamaru handshakers: Mr. Tokuda (left) and Mr. Goto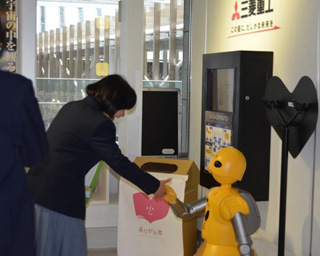 Shaking hands with wakamaru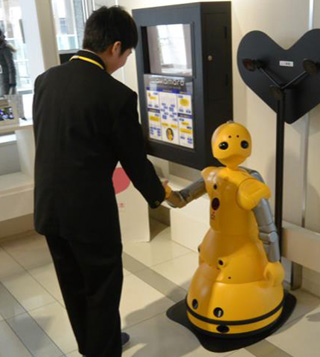 We thank everyone who has participated in "wakamaru gift."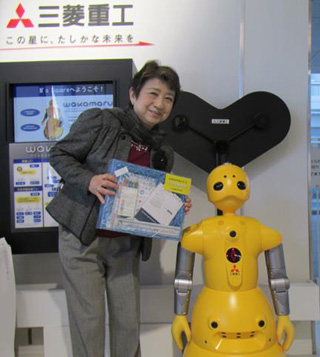 Ms. Tsunozaki, the 7,000th handshaker
---