Ryojyu ColdChain Conducts Workshop as CSR Activity
at "Junior Dream College: Learning about Careers from Professionals"
On the weekend of December 5-6, Ryojyu ColdChain Co., Ltd., a Tokyo-based Group company of Mitsubishi Heavy Industries, Ltd. (MHI), conducted a workshop titled "Learning about Engineers" targeted at students from the 4th grade of elementary school through junior high school. The program was part of the "Junior Dream College: Learning about Careers from Professionals" event organized by the Lifelong Learning Center of Seitoku University in Matsudo, Chiba Prefecture.
Ryojyu ColdChain was established in July 1972 as the general distributor of transport refrigeration units and other cold chain-related equipment manufactured by MHI, which provided 100% of the company's founding capital. Since its start Ryojyu ColdChain has developed into an industry leader as a specialist in refrigerated transport systems of all kinds.

The company's participation in the "Junior Dream College" event came about in response to a request from Seitoku University's Lifelong Learning Center. This program is designed to offer "hands-on" career education in which students can learn from actual professionals both the rewards and travails of their jobs. Its aims are to arouse interest in specific careers and to provide an opportunity for students to imagine realistically what their future lives in the workforce will be like. In preparation for participation in this event, Ryojyu ColdChain planned meticulously, including the creation of a study kit for participants.

The workshop focused on two themes: the profundity of a career in engineering, and explaining how one becomes an engineer. Every effort was made to convey this information to the students in an easily understandable format. The workshop's participants were all children who had voluntarily asked to take part, so they eagerly asked questions, making the workshop an extremely lively affair. In various ways they were able to get a good feeling for what the job of an engineer entails: these included creating a cooling device using refrigerated plastic bottles and seeing vehicles equipped with refrigeration units made by Ryojyu ColdChain. One development that made the company's staff especially happy was hearing participants who came without any idea of what they wanted to be in the future finish the workshop saying they want to become an engineer.

Here are some of the comments made by the participants:

"I learned that there are many different kinds of engineers: those who develop systems, and those who make them a reality…. It was amazing how we were allowed to use so much testing equipment. I was also amazed because it hadn't occurred to me that 'rolling' would increase the area receiving cold air produced by a plastic bottle." (6th grader, primary school, female)

"I saw how happy it makes an engineer when the user is happy." (1st year junior high school student, female)

"I was aware that compact refrigeration vans exist, but this was the first time I actually saw one." (2nd year junior high student, male)

"I learned that it takes a lot of people to make something. I want to try doing that too." (5th grader, primary school, male)

In all, a total of 20 different workshops took place. Besides Ryojyu ColdChain's workshop about engineers, others were about nursery school teachers, railway employees, architects, pastry chefs, etc.

This was Ryojyu ColdChain's first time participating in a career education event, and the company plans to actively undertake more CSR activities like this in the future.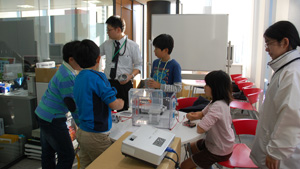 Ryojyu ColdChain's workshop about careers in engineering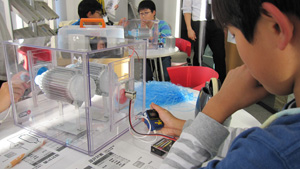 Experiment using refrigerated plastic bottles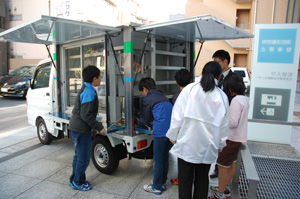 Vehicle equipped with a refrigeration unit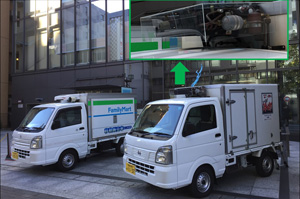 Clear acrylic panels were used to enable students to see the workings of a refrigeration unit.
---
About MHI Group
Mitsubishi Heavy Industries (MHI) Group is one of the world's leading industrial groups, spanning energy, smart infrastructure, industrial machinery, aerospace and defense. MHI Group combines cutting-edge technology with deep experience to deliver innovative, integrated solutions that help to realize a carbon neutral world, improve the quality of life and ensure a safer world. For more information, please visit www.mhi.com or follow our insights and stories on spectra.mhi.com.