PHOENIX HARMONIA, A Very Large LPG/Ammonia Carrier Constructed by Namura Shipbuilding, Enters into Service
-- Mitsubishi Shipbuilding Contributed to the Vessel's Successful Completion under a Technical Agreement with Namura --
・ As a comprehensive marine engineering services provider, Mitsubishi Shipbuilding supported Namura Shipbuilding by development of the ship's hull form and detail designs, supply of machinery and equipment, and technical advice during construction stage
・ The vessel is the largest carriers of its type equipped with an LPG-powered dual-fuel main engine and capable of transporting ammonia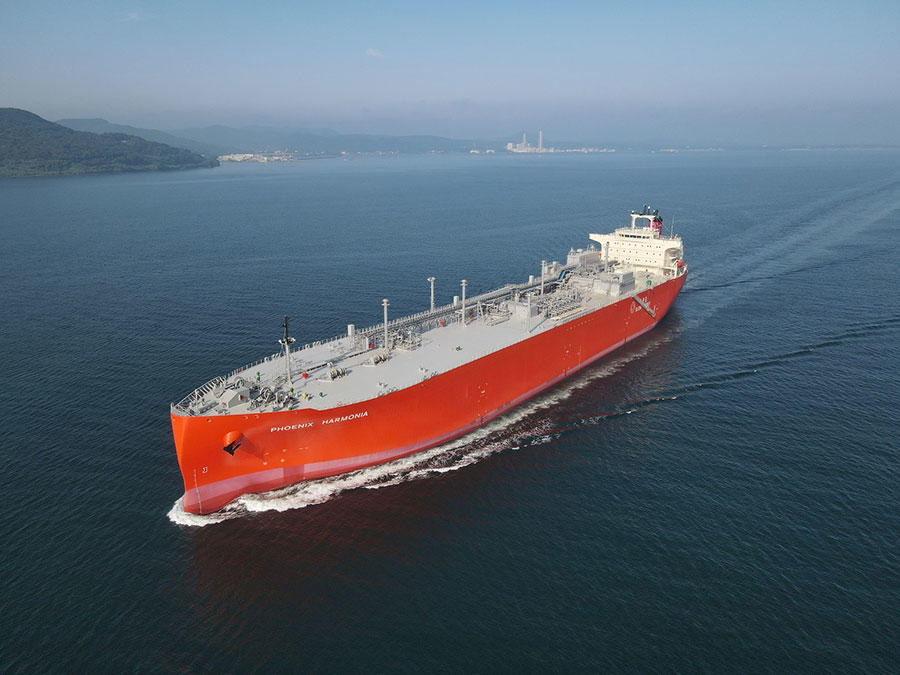 Tokyo, September 29, 2023 - The PHOENIX HARMONIA, a liquefied petroleum gas (LPG) powered very large LPG/ammonia carrier, has been constructed by Namura Shipbuilding Co., Ltd. (Namura) and delivered to MOL Energia Pte. Ltd., a Singapore-based company of Mitsui O.S.K. Lines Group on September 29. Mitsubishi Shipbuilding Co., Ltd., a part of Mitsubishi Heavy Industries (MHI) Group, supported Namura and contributed to the delivery of the vessel, based on a technical cooperation agreement(Note) executed between the two companies in August 2021, in the wide range of technical aspects through the whole construction period of the vessel where Mitsubishi Shipbuilding developed the ship's hull form and detail designs, supplied an LPG related major machinery and equipment, and also gave technical advice during the construction stage, backed by its knowledge and expertise accumulated through the construction and delivery of more than 80 very large LPG carriers and midsize LPG/ammonia carriers.
The PHOENIX HARMONIA achieves enhanced operating performance by increasing the capacity of the cargo tank to 87,000m³, up from the 83,000m³ of earlier LPG carriers, and engineering improvements have resulted in enhanced fuel efficiency. Mitsubishi Shipbuilding applied its technologies in gas handling to develop a new system capable of using LPG in the cargo tank as fuel to propel the ship. This ability to secure LPG fuel from the cargo tank reduces equipment needed on deck and ensures flexibility during loading at the LPG terminal. The PHOENIX HARMONIA is one of the largest vessels of its type capable of carrying ammonia, in anticipation of future demand growth in transport of large volumes of ammonia, which is a fuel that emits no CO2 during combustion.
Going forward, Mitsubishi Shipbuilding will play a key role in MHI Group's strategy for advancement of the energy transition as a maritime system integrator and will provide shipbuilding technologies and environmentally friendly products in response to all customer needs. In these ways, the Company will make ongoing contributions to the further development of maritime logistics and the realization of a decarbonized society, a critical issue of global scale.
---
About MHI Group
Mitsubishi Heavy Industries (MHI) Group is one of the world's leading industrial groups, spanning energy, smart infrastructure, industrial machinery, aerospace and defense. MHI Group combines cutting-edge technology with deep experience to deliver innovative, integrated solutions that help to realize a carbon neutral world, improve the quality of life and ensure a safer world. For more information, please visit www.mhi.com or follow our insights and stories on spectra.mhi.com.