MHI Inaugurates Operations at "Nagasaki Carbon Neutral Park,"
A Development Base for Energy Decarbonization Technologies
・ The new facility is purposed to develop fuel production and combustion technologies, aiming for increased use of hydrogen, biomass and ammonia
・ The existing development, design and production bases in Nagasaki District will be utilized, to provide solutions that will contribute to realization of a carbon neutral world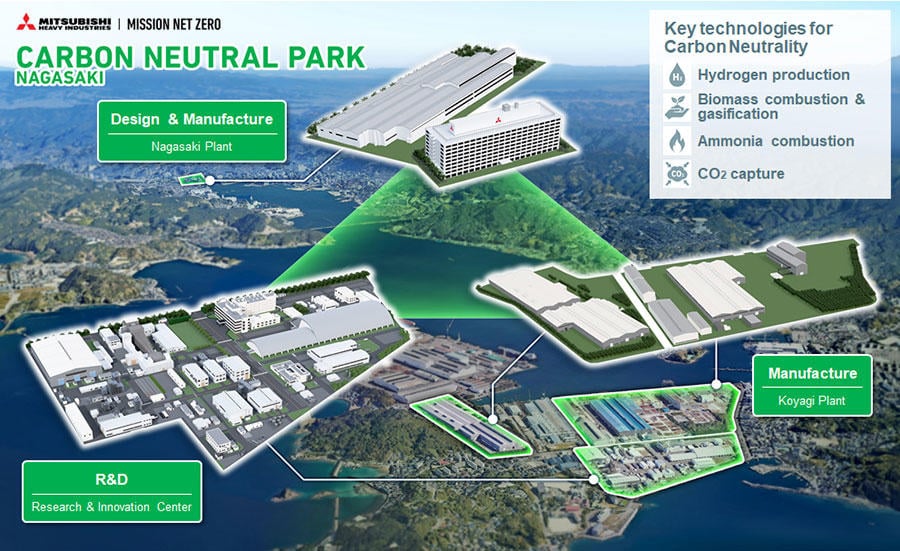 Tokyo, August 7, 2023 - Mitsubishi Heavy Industries, Ltd. (MHI) has launched operations of Nagasaki Carbon Neutral Park, a center dedicated to development of MHI Group's energy decarbonization technologies. Located in Nagasaki city, the new base will be progressively expanded over the coming years.
Nagasaki Carbon Neutral Park will undertake development mainly of fuel production, combustion and CO2 capture technologies at existing research facilities at the Nagasaki District Research & Innovation Center which are currently dedicated to production of hydrogen and biomass fuels, ammonia combustion and CO2 capture. Applying the thermal energy system design and manufacturing capabilities developed at Nagasaki Shipyard & Machinery Works' Nagasaki and Koyagi plants, Nagasaki Carbon Neutral Park will accelerate R&D toward product commercialization and business viability.
In the area of hydrogen production, development will focus on next-generation technologies such as advanced water electrolyzers that operate by solid oxide electrolysis cells (SOEC), and turquoise hydrogen produced by pyrolysis of methane into hydrogen and solid carbon. Key technologies developed at Nagasaki Carbon Neutral Park will subsequently undergo hydrogen production demonstration at Takasago Hydrogen Park(Note1) in Hyogo Prefecture, as well as demonstration of power generation in combination with a hydrogen gas turbine.
In the area of biomass fuel production, development will target commercialization of synthetic fuel production facilities, including sustainable aviation fuels (SAF) produced by biomass gasification integrated Fischer-Tropsch synthesis(Note2). In the area of ammonia combustion, testing will be performed using an actual size burner of a large-scale combustion test furnace located within the Nagasaki district, with plans calling for co-firing with at least 50% ammonia demonstration testing at a power plant in FY2024 or soon thereafter.
MHI Group today is pursuing the Energy Transition as an engine for corporate growth based on its declaration of "MISSION NET ZERO" targeting carbon neutrality by 2040. Initiatives fall into three core areas: decarbonization of existing infrastructure, realization of a hydrogen solutions ecosystem, and achievement of a CO2 solutions ecosystem. Going forward, through the R&D conducted at Nagasaki Carbon Neutral Park the Company will aim for practical applications of decarbonization technologies in a quest to achieve a carbon neutral world.
1

For further information: https://www.mhi.com/news/22022202.html

2

Gasification and FT (Fischer-Tropsch) synthesis technology: a technology whereby solid materials such as wood cellulose are reacted with water vapor and a small amount of oxygen in a gasifier to produce carbon monoxide and hydrogen (gasification), which are then synthesized into liquid hydrocarbons (fuel) in an FT reactor using a catalyst (Fischer-Tropsch Process).
---
Tags: carbon neutral,Nagasaki,hydrogen,Biomass,ammonia
About MHI Group
Mitsubishi Heavy Industries (MHI) Group is one of the world's leading industrial groups, spanning energy, smart infrastructure, industrial machinery, aerospace and defense. MHI Group combines cutting-edge technology with deep experience to deliver innovative, integrated solutions that help to realize a carbon neutral world, improve the quality of life and ensure a safer world. For more information, please visit www.mhi.com or follow our insights and stories on spectra.mhi.com.