・ MHIAEL will work to meet MRO needs for the PW1100G-JM in response to steady increase in demand expected in future
・ Greater fuel efficiency and less noise than conventional engines. MHIAEL is also contributing to development and production.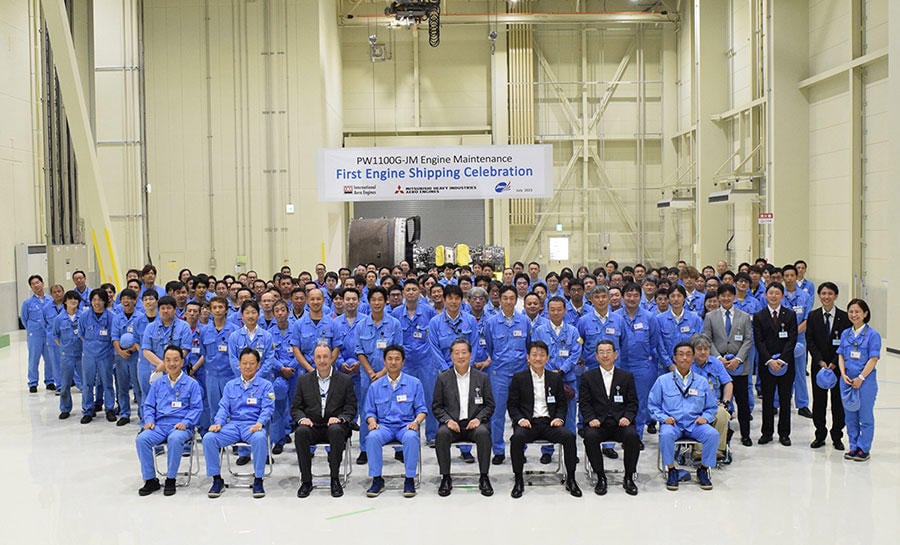 Tokyo, July 24, 2023 - Mitsubishi Heavy Industries Aero Engines, Ltd. (MHIAEL), a group company of Mitsubishi Heavy Industries, Ltd. (MHI), has completed its first maintenance of the PW1100G-JM aero engine for the Airbus A320neo family. The company drew on experience and knowledge gained from 30 years of work on the maintenance of the PW4000 and V2500 engines. The development of this aero engine is a multinational joint project which MHIAEL participates in the development and production as part of Japanese Aero Engines Corporation (JAEC).
A ceremony commemorating the completion of the first maintenance was held at MHIAEL's Komaki North Plan on July 6, attended by JAEC and International Aero Engines, LLC. (IAE), who were also involved in the production of the aero engine. Marc Meredith, GTF Engines Aftermarket Vice President of IAE, commented through his congratulatory letter "The capacity and capabilities that MHIAEL will bring to the GTF MRO network will play a vital role in supporting our airline customers. I recognize the significant effort and skill required and extend my appreciation to every member of the MHIAEL Team."
With thrust of 24,000 to 33,000 pounds (107-147kN) and gears on the low-pressure spool achieving greater fuel efficiency and less noise than its predecessors, the PW1100G-JM is the pinnacle of aero engine technology. The PW1100G-JM is used on aircraft in the Airbus A320neo family. This is the latest 120- to 200-seater aircraft and has the greatest global share of the passenger aircraft market. Of around 3,800 aircrafts that have been ordered, the PW1100G-JM has been selected for around half of the aircraft for which the engine model has been decided. With more A320neo aircraft set to be sold and operated in future, a steady growth of demand for maintenance, repair and overhaul (MRO) services for the PW1100G-JM is expected.
MHIAEL will continue expanding its aircraft engine MRO business, improve its technical capabilities and reliability to ensure even safer flights for the passengers on board, and provide the caliber of service that an international society calls for.
---
About MHI Group
Mitsubishi Heavy Industries (MHI) Group is one of the world's leading industrial groups, spanning energy, smart infrastructure, industrial machinery, aerospace and defense. MHI Group combines cutting-edge technology with deep experience to deliver innovative, integrated solutions that help to realize a carbon neutral world, improve the quality of life and ensure a safer world. For more information, please visit www.mhi.com or follow our insights and stories on spectra.mhi.com.