Port of Newcastle and MHI Announce Clean Energy Partnerships Enabling Port of The Future in Newcastle
Port of Newcastle
Mitsubishi Heavy Industries, Ltd.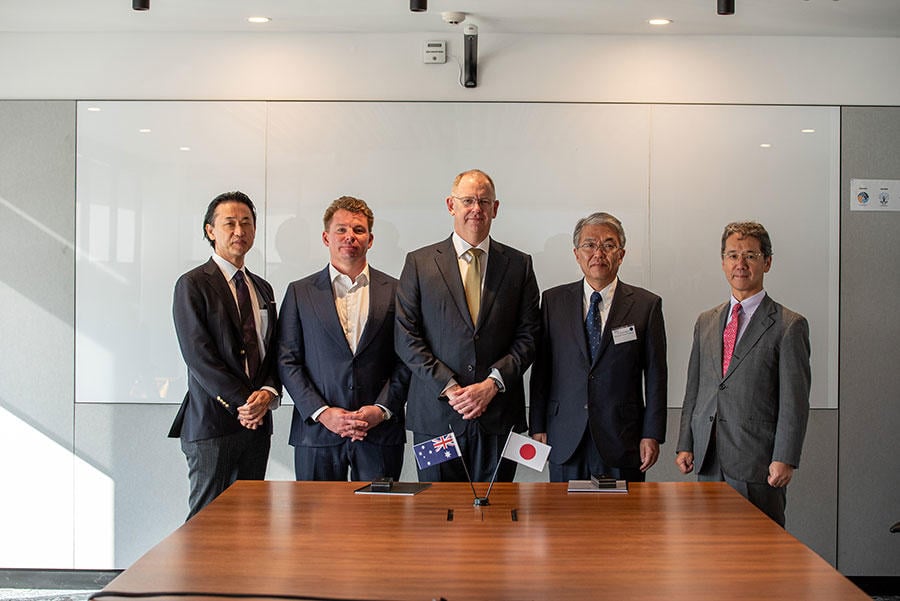 Port of Newcastle and Mitsubishi Heavy Industries, Ltd. have unveiled, during a visit by Mr. Chris Bowen, Minister for Climate Change and Energy, to the Port today, an MOU setting out a pathway towards the enablement of a world-class clean energy economy in the Hunter Region through the Port's Clean Energy Precinct, which secured a $100-million Commonwealth funding grant in the 2022 Federal Budget.
Port of Newcastle CEO Craig Carmody said the once in a generation project was the centrepiece of the Port's future diversification strategy.
"Our dedicated 220-hectare Clean Energy Precinct will offer the perfect platform for large scale clean energy production, which will be supported by common user, open access, shared infrastructure across clean energy storage, transport and export facilities servicing production from the Precinct itself and from right across the Hunter Region" he said.
Dr. Hitoshi Kaguchi, Senior Executive Vice President at MHI said: "We are delighted to be involved in a major development project for the Port of Newcastle, a promising hydrogen hub in Australia. We possess various technologies that are considered necessary for the realization of a hydrogen hub in the Port of Newcastle, such as hydrogen and ammonia power generation and CO2 capture technologies, ammonia and methanol production plants, ammonia and CO2 carriers, etc., and based on these technologies, we will study the optimization of the equipment configuration for the energy facility in the port. The port has long been an important base for Japan as a resource shipping port, and through this project, we will work together with the port to contribute to the decarbonization of Australia and Japan."
Together the Port of Newcastle and Mitsubishi Heavy Industries will collaborate on optimization of the configuration of the Port's Clean Energy Precinct, explore opportunities for MHI to supply technology to the Clean Energy Precinct and across the Hunter Region, the export of clean energy products to Japan and the potential further collaboration with other clean energy projects in the port area across a range of energy vectors.
Project Lead and the Port's Chief Commercial Officer Simon Byrnes said the Clean Energy Precinct MOUs spanned collaboration on the development of inland and offshore wind projects, electricity transmission and water supply, clean energy production, clean energy storage, distribution and export facilities, export and bunkering, skills and training pathways, advanced manufacturing and innovation hubs. Drawing on the world leading expertise of companies in our key markets of Japan and Korea is extremely important to driving that vision forward.
"By collaborating with all levels of government, with industry partners and education providers, we are working to deliver a shared ambition to accelerate innovation, foster technological advancement, generating jobs and educational pathways for this new industry at scale," Mr Byrnes said. "Our vision is a thriving Hunter community which is viewed as the best place to work in the clean energy industry, both in Australia and across the world'.
Further information on the Clean Energy Precinct project can be found at Clean Energy Precinct including a factsheet with details of the MOU and supporting partnerships. Further announcements regarding specifics will be made in due course as each MOU partnership evolves.
---
Tags: Australia,hydrogen,Clean Energy,carbon neutral
About MHI Group
Mitsubishi Heavy Industries (MHI) Group is one of the world's leading industrial groups, spanning energy, smart infrastructure, industrial machinery, aerospace and defense. MHI Group combines cutting-edge technology with deep experience to deliver innovative, integrated solutions that help to realize a carbon neutral world, improve the quality of life and ensure a safer world. For more information, please visit www.mhi.com or follow our insights and stories on spectra.mhi.com.