MHI Hosts Successful CO2 Capture Plants User Conference in Bahrain
-- Reflect Customer Feedback for Further Enhancement of Technologies, Performance, and Services --
・ Serving platform for customers using MHI's CO2 capture technology for their network and exchanging information on operations.
・ MHI to promote its latest technologies and performance to government officials and a range of companies and organizations, enhancing the group's presence in the Middle East.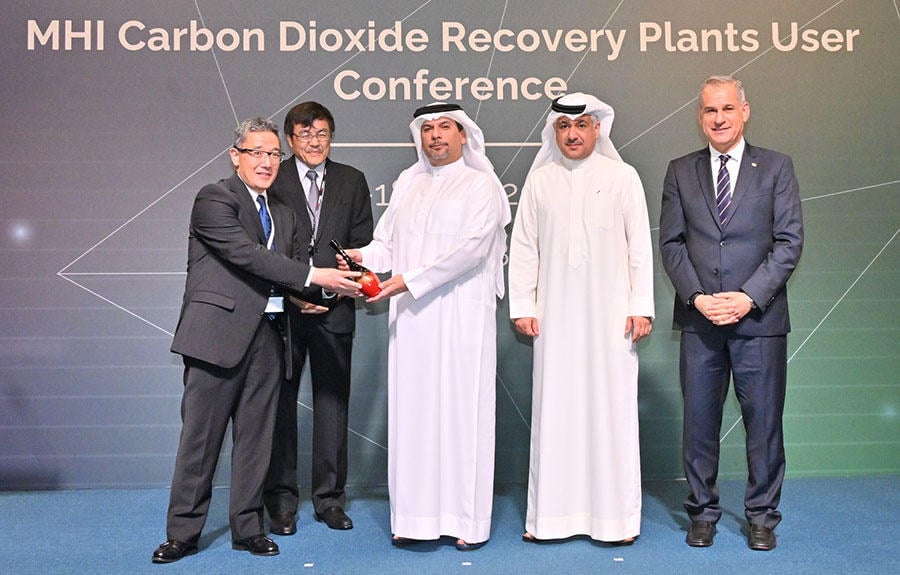 Tokyo, June 29, 2023 - Mitsubishi Heavy Industries, Ltd. (MHI) held a user conference on May 17-18 in Manama, the capital of Bahrain, mainly for customers who have adopted MHI's carbon dioxide capture technology. The conference, organized jointly with the Bahrain-based petrochemical firm Gulf Petrochemical Industries Company (GPIC), was held to present MHI's latest technologies, as well as serve as a platform to network and exchange information regarding operations, while also providing MHI with direct customer feedback to support further enhancement of technologies, performance, and services.
Attending the conference was Bahrain's Minister of Oil and Environment, and the Japanese Ambassador to Bahrain, along with nearly 100 participants representing 18 companies and organizations, including leading Bahraini corporations, government agencies, and universities. MHI highlighted how its cutting-edge technologies and experience can contribute to strengthen Bahrain's Environment Policy. It will also enhance the presence of MHI Group in the Middle East by proactively responding to questions from the attendees with a keen interest in the field of CO2 capture.
The conference was held jointly with GPIC owing to MHI's record of providing CO2 capture technology for the company's petrochemical plants. This was the second joint conference, following a previous gathering in 2015. Going forward, MHI will continue to actively solicit customer feedback and make further advancements in technological innovation, not only provide customers with CO2 capture technology and equipment, but expanding its range of services to meet customer needs after the plant operation.
MHI Group has declared MISSION NET ZERO to achieve carbon neutrality by 2040, and the Company is now undertaking strategic initiatives toward decarbonizing the energy supply side. Establishing a CO2 solutions ecosystem that links diverse carbon emission sources with solutions for storage and utilization is a core aspect of this initiative. MHI Group will utilize its proprietary CO2 capture technology to strengthen its CCUS (Carbon dioxide Capture, Utilization and Storage) business, contribute as a solution provider to reductions in greenhouse gas emissions on a worldwide scale, and further pursue development of solutions that contribute to the protection of the environment.
Comments from participants:
■ H.E. Dr. Mohammed bin Mubarak Bin Daina, Minister of Oil and Environment and the Special Envoy for Climate Affairs,
His Excellency Dr. Mohammed bin Mubarak Bin Daina, Minister of Oil and Environment, Special Envoy for Climate Affairs highlighted that Bahrain seeks to reinforce ambitious environmental policies and projects to reduce carbon emissions and achieve carbon neutrality.
He expressed his thanks to MHI and GPIC for hosting this environmental event that showcases the latest technologies and studies in this field of decarbonization.
■ H.E. Mr. Masayuki Miyamoto, Ambassador Extraordinary and Plenipotentiary of Japan to the Kingdom of Bahrain,
"As long as we exist as human beings, we can't completely halt emissions. Therefore, our focus must be on how to neutralize the carbon dioxide emissions we produce. This brings to light the importance of CCS or CCUS technologies, standing for Carbon dioxide Capture, Utilization and Storage. I am proud that Mitsubishi Heavy Industries, as one of Japan's leading proponents of this technology, has been contributing to emission reduction efforts here in Bahrain and across other countries, assisting in their journey towards achieving carbon neutrality."
■ Mr. Yasser Abdulrahim Alabbasi, Chief Executive Officer (CEO) of GPIC,
"This conference serves as a platform to explore the advantages of technologies and processes related to carbon capture, utilization, and storage. It also showcases the latest innovations and advances in commercially available CO2 recovery processes. GPIC was the pioneer company in the Middle East to build, in collaboration with MHI, the first carbon dioxide recovery unit. We are proud to be collaborating once again to host this conference, enabling us to share knowledge, insights, and expertise on capturing CO2, a vital step in achieving the kingdom's objective of net zero by 2060."
■ Mr. Makoto Susaki, Senior Vice President (CCUS), Engineering Solutions, Mitsubishi Heavy Industries, Ltd.
"The decarbonization efforts in front of us are being developed globally with the goal of achieving carbon neutrality by 2050, and various initiatives and systems are being developed in each country and region.
Under these circumstances, MHI is also working to build a CO2 ecosystem and looking at what we can do and offer not only for CO2 capture but for the entire CCUS value chain. We are proud that the CO2 capture technology we have nurtured together with our license users is one of the world's top runners, and we will continue to improve and develop it based on your feedback."
About MHI Group's CO2 capture technology
MHI Group has been developing the KM CDR Process™ (Kansai Mitsubishi Carbon Dioxide Recovery Process) and the Advanced KM CDR Process™ in collaboration with Kansai Electric Power since 1990. As of June 2023, the Company has delivered 15 plants adopting the KM CDR Process™, and three more are currently under construction. The Advanced KM CDR Process™ uses KS-21™, which incorporates technological improvements over the amine-based KS-1™ solvent adopted at all 15 of the commercial CO2 capture plants MHI Group has delivered to date. The advanced version offers superior regeneration efficiency and lower deterioration than the KS-1™, and it has been verified to provide excellent energy saving performance, reduce operating costs, and result in low amine emissions.
For further information on MHI's CO2 capture plants:
---
Tags: carbon neutral,energy transition,CCUS
About MHI Group
Mitsubishi Heavy Industries (MHI) Group is one of the world's leading industrial groups, spanning energy, smart infrastructure, industrial machinery, aerospace and defense. MHI Group combines cutting-edge technology with deep experience to deliver innovative, integrated solutions that help to realize a carbon neutral world, improve the quality of life and ensure a safer world. For more information, please visit www.mhi.com or follow our insights and stories on spectra.mhi.com.