MHI President Seiji Izumisawa Offers Words of Encouragement to New Employees at the Company's 2023 Welcoming Ceremony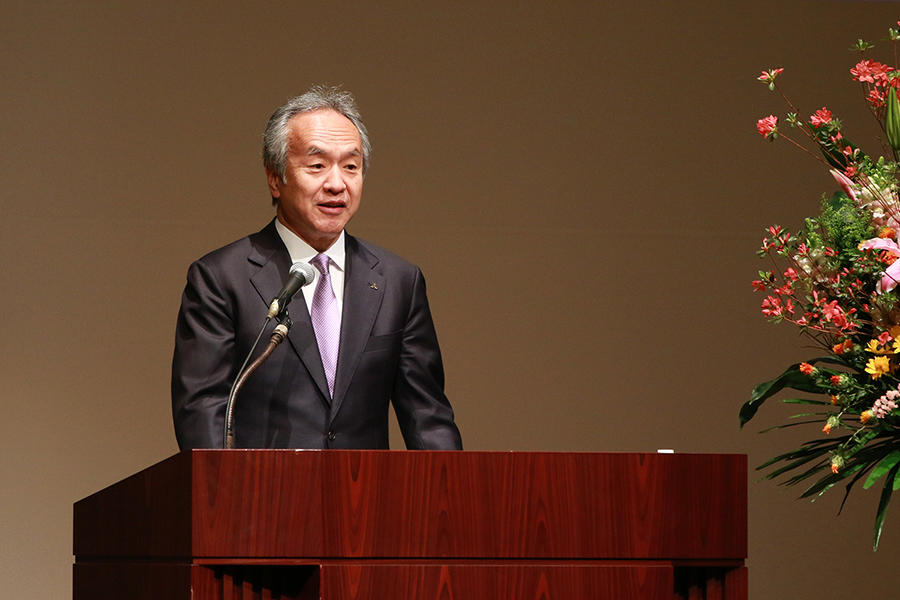 Tokyo, April 3, 2023 – Mitsubishi Heavy Industries, Ltd. (MHI) held a welcoming ceremony this morning for employees newly joining the company this year. With the easing of COVID-19 restrictions, for the first time in four years, employees in business and technical positions from all locations attended the event in person at Shinagawa Intercity Hall in Tokyo, while factory workers joined via livestream from training centers. President and CEO Seiji Izumisawa offered words of welcome and encouragement to the new employees as they became members of MHI Group and began their professional lives.
Summary of President Izumisawa's Message
President Izumisawa gave a brief overview of MHI's history and corporate philosophy, then addressed the following points, summarized below.
In the world today, although the COVID-19 crisis has subsided, the geopolitical situation remains tense, and uncertainty has increased everywhere. At the same time, the global economy is rapidly shifting in terms of decarbonization and digital transformation. It is in such times of significant change that a company needs to have an unwavering core.
I have two key aspirations for you as new employees of MHI Group: "Shu-Ha-Ri" and "First Person."
"Shu-Ha-Ri" is a concept from martial arts describing the three stages to achieving full mastery. The first stage is "Shu," learning precisely and faithfully from teachers. The second is "Ha," innovating and making changes to what has been learned. Finally, "Ri" is the stage of establishing your own way of doing things. As new employees, you should avidly imitate the positive aspects of your senior colleagues.
"First Person" means a mental attitude of approaching every task as your own, and acting on your own initiative. Do not be passive, and continue to move forward, even if just in small steps. Never blame your shortcomings on your work environment or others, and constantly ask yourself what you are capable of achieving.
Finally, good health is the foundation of life. The health of you and your family is vital, while the next most important aspect of work is safety. When at a worksite, listen carefully to the directions from your senior colleagues, and make faithful action the basis for everything you do. Always maintain constant awareness of "safety first," the core principle of the manufacturing industry, in order to avoid accidents or injury.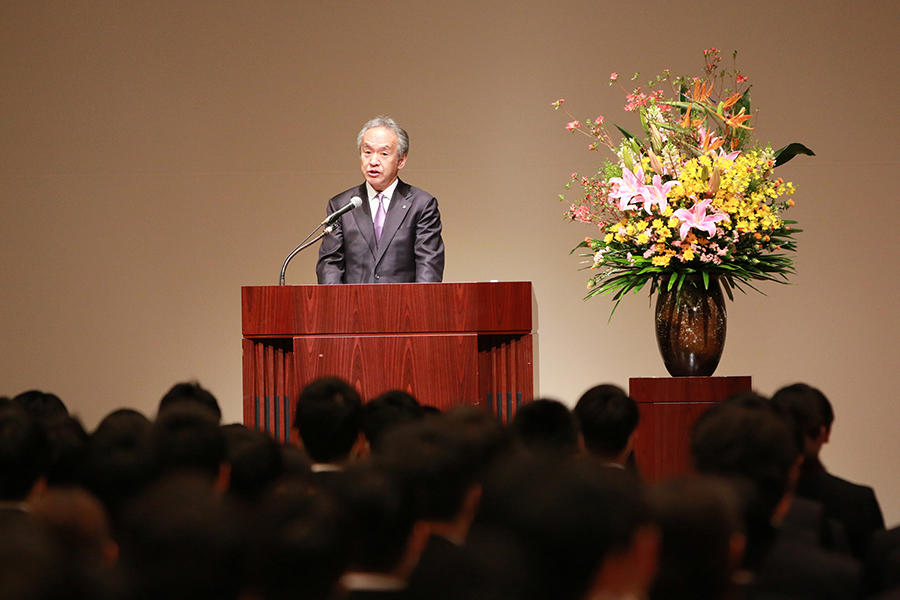 ---
Tags: President,Welcoming Ceremony For New Employees
About MHI Group
Mitsubishi Heavy Industries (MHI) Group is one of the world's leading industrial groups, spanning energy, smart infrastructure, industrial machinery, aerospace and defense. MHI Group combines cutting-edge technology with deep experience to deliver innovative, integrated solutions that help to realize a carbon neutral world, improve the quality of life and ensure a safer world. For more information, please visit www.mhi.com or follow our insights and stories on spectra.mhi.com.