MHI and PLN Nusantara Power to Jointly Investigate Co-Firing with Hydrogen, Ammonia and Biomass in Indonesia's Power Plants
-- MoU Signed with the PLN Group Company to Begin Technical Studies --
・ Studies at Muara Karang Power Plant to examine hydrogen co-firing in a natural gas-fired turbine, and ammonia co-firing in a gas-fired boiler.
・ Study at Paiton Coal-Fired Power Plant to evaluate technological feasibility of biomass co-firing.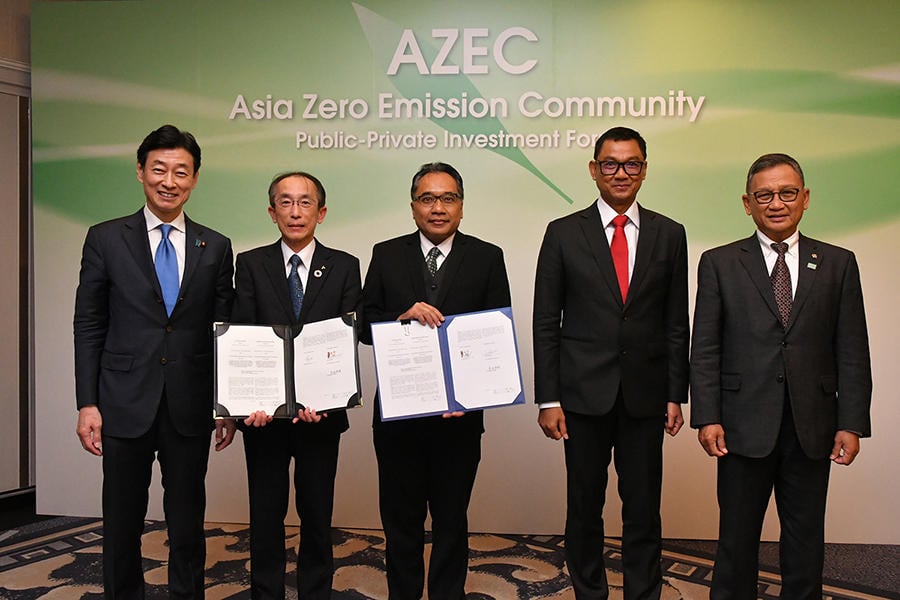 Tokyo, March 23, 2023 – Mitsubishi Heavy Industries, Ltd. (MHI), and PT. PLN Nusantara Power, a sub-holding of Indonesia's state-owned electricity provider PT. PLN (Persero) (PLN), have signed a Memorandum of Understanding (MoU) to commence three technical studies related to co-firing of less carbon intensive fuels at power plants owned and operated by Nusantara Power. The three studies will be conducted jointly by Nusantara Power and MHI with support from Mitsubishi Power, MHI's power solutions brand. This MoU follows a similar agreement concluded with PLN Group company PT. PLN Indonesia Power in November 2022, and will further aid in the advancement of solutions to accelerate the decarbonization of energy systems in Indonesia.
A pair of studies to be conducted at the Muara Karang Power Plant, located on Java approximately 10 kilometers from the capital city of Jakarta, will examine the potential for introducing hydrogen co-firing for an M701F Series turbine currently in operation, and ammonia co-firing in a gas-fired boiler. MHI has supplied many of its principal equipment in the power station, including several gas turbines, boilers, and steam turbines.
A study at the Paiton Coal-Fired Power Plant, also located on Java and owned by Nusantara Power, will evaluate the technical aspects for the feasibility of biomass co-firing.
The signing of this MoU was announced at the Asia Zero Emission Community (AZEC) Public-Private Investment Forum held on March 3 in Tokyo by Japan's Ministry of Economy, Trade and Industry (METI). Several initiatives for decarbonization in markets across Asia, supported by the technology and expertise of Japanese companies, were proposed during this event.
This MoU builds on strong existing cooperation between MHI and PLN in Indonesia. Since 1971, MHI's power solutions brand Mitsubishi Power has been supporting PLN and its organizations with solutions for power plants across the country, including the Muara Karang, Gresik, Tanjung Priok, Suralaya, and Grati power plants. In March 2022, MHI and PLN, together with Institut Teknologi Bandung, prepared a joint proposal on biomass co-firing adoption at Indonesia's thermal power plants and presented their findings to the national government.
Through this MoU and other ongoing initiatives, MHI, with support from Mitsubishi Power, will work to help Indonesia achieve its 2060 Net Zero Emission target.
---
Tags: hydrogen,ammonia,Biomass,Indonesia's
About MHI Group
Mitsubishi Heavy Industries (MHI) Group is one of the world's leading industrial groups, spanning energy, smart infrastructure, industrial machinery, aerospace and defense. MHI Group combines cutting-edge technology with deep experience to deliver innovative, integrated solutions that help to realize a carbon neutral world, improve the quality of life and ensure a safer world. For more information, please visit www.mhi.com or follow our insights and stories on spectra.mhi.com.