Mitsubishi Aircraft Corporation: Organizational and Personnel Changes
Mitsubishi Aircraft Corporation
Nagoya, March 11, 2015 -
Mitsubishi Aircraft Corporation announced organizational and personnel changes effective from April 1, 2015. The details follow.
Organizational changes:
Corporate Administration Division
General Affairs Department and Corporate Planning & Business Administration Department are reorganized and together with the Tokyo Office are consolidated under the direct control of Corporate Administration Division.
Customer Support Division
Customer Support Planning Department is reorganized and its function administered by Project Management Department, which is newly established in the Customer Support Division.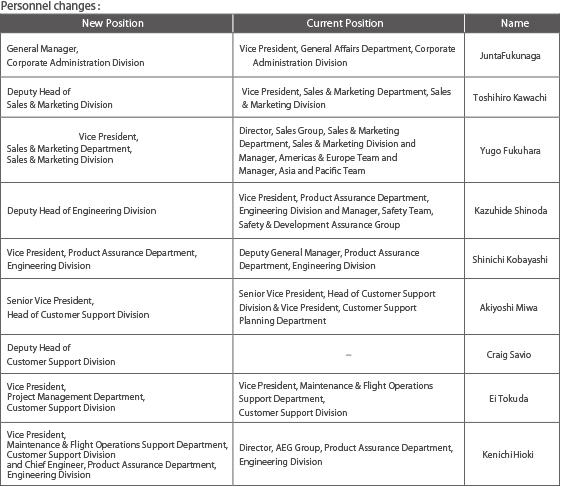 About MRJ
Mitsubishi Regional Jet is a family of 70~90-seat next-generation aircraft featuring the Pratt & Whitney's revolutionary PurePower® engine and stateof-the-art aerodynamics to drastically reduce fuel consumption, noise, and emissions, while offering top-class operational benefits, an outstanding cabin designed for heightened passenger flying comfort with large overhead bins.
---
About MHI Group
Mitsubishi Heavy Industries (MHI) Group is one of the world's leading industrial groups, spanning energy, smart infrastructure, industrial machinery, aerospace and defense. MHI Group combines cutting-edge technology with deep experience to deliver innovative, integrated solutions that help to realize a carbon neutral world, improve the quality of life and ensure a safer world. For more information, please visit www.mhi.com or follow our insights and stories on spectra.mhi.com.