JAL Signs Definitive Agreement for Purchase of 32 MRJ Aircraft
Deliveries Scheduled to Commence in 2021
Mitsubishi Aircraft Corporation
Japan Airlines Co., Ltd.
Mitsubishi Aircraft Corporation
TOKYO, January 28, 2015 –
Japan Airlines (JAL) and Mitsubishi Aircraft Corporation (Mitsubishi Aircraft) announced today that they have signed an agreement for the purchase of thirty-two firm Mitsubishi Regional Jet (MRJ) aircraft. JAL and Mitsubishi Aircraft signed a Letter of Intent (LOI) on August 28, 2014, and have moved forward to conclude this agreement on January 28, 2015.
JAL highly evaluates the performance of the next-generation MRJ aircraft and Mitsubishi Aircraft's proposals for operational support following deliveries. Thus far, 407 MRJ (223 firm, 160 option, 24 purchase rights) are on order, including 32 from JAL. Deliveries to JAL are scheduled to commence in 2021.
J-Air Corporation (J-AIR), the JAL Group's 100% owned regional airline subsidiary, will operate the 32 MRJ aircraft.
"JAL will operate the MRJ as the key aircraft of its regional jet fleet, and remains committed to providing the best services to our customers by achieving steady network expansions and improving products and services quality," said Yoshiharu Ueki, President of Japan Airlines. "As a network carrier that also operates regional jets, we are contributing to the birth of Japan's first passenger jet."
Teruaki Kawai, President of Mitsubishi Aircraft said: "The MRJ, the nextgeneration regional jet, drastically reduces fuel consumption, noise, and emissions, while offering top-class operational benefits for airlines, including the JAL Group. Mitsubishi Aircraft remains firmly committed to the success of the MRJ program, as well as to the growth of Japan's aviation industry."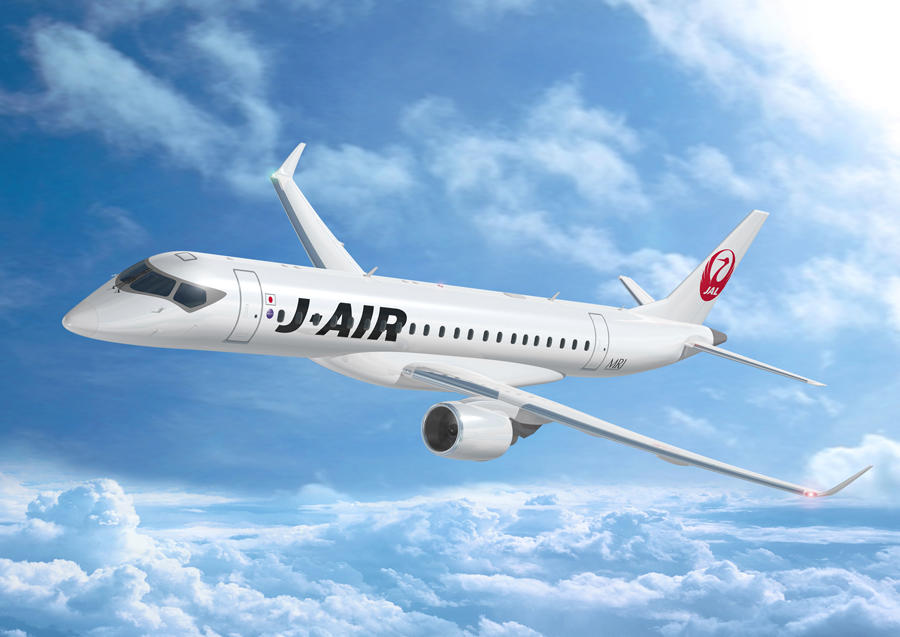 About MRJ
Mitsubishi Regional Jet is a family of 70~90-seat next-generation aircraft featuring the Pratt & Whitney's revolutionary PurePower® engine and stateof-the-art aerodynamics to drastically reduce fuel consumption, noise, and emissions, while offering top-class operational benefits, an outstanding cabin designed for heightened passenger flying comfort with large overhead bins.
About Japan Airlines
Japan Airlines (JAL) was founded in 1951 and became the first international airline in Japan. A member of the oneworld® alliance, the airline now reaches more than 254 airports in 41 countries and regions together with its codeshare partners with a modern fleet of more than 220 aircraft. JAL Mileage Bank (JMB), the airline's loyalty program, has reached over 27 million members worldwide. Awarded the most punctual major international airlines in 2009, 2010, 2012 and 2013, JAL is committed to providing customers the highest levels of flight safety and supreme quality in every aspect of its service, and aims to become its customers' most favoured airline in the world. For more information, please visit http://www.jal.com/en/outline/
---
About MHI Group
Mitsubishi Heavy Industries (MHI) Group is one of the world's leading industrial groups, spanning energy, smart infrastructure, industrial machinery, aerospace and defense. MHI Group combines cutting-edge technology with deep experience to deliver innovative, integrated solutions that help to realize a carbon neutral world, improve the quality of life and ensure a safer world. For more information, please visit www.mhi.com or follow our insights and stories on spectra.mhi.com.