The Wing-Body Combination Complete for MRJ's First Flight Test Aircraft
Mitsubishi Aircraft Corporation
Mitsubishi Heavy Industries, Ltd.
Nagoya, June 17, 2014 - The wings of the Mitsubishi Regional Jet's (MRJ) first flight test aircraft have been mated with the fuselage at Mitsubishi Heavy Industries' (MHI) final-assembly factory (Komaki South Plant, Nagoya Aerospace Systems Works, located in Aichi Prefecture). The wing-body combination marks another major milestone toward MRJ's completion.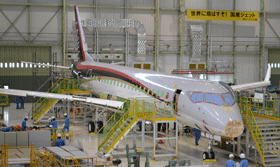 Mitsubishi Aircraft took delivery of the pylon from Spirit AeroSystems and the PurePower® PW1200G engine from Pratt & Whitney. Mitsubishi Aircraft will soon commence the engine-mounting process.

Mitsubishi Aircraft and MHI remain firmly committed to the success of the MRJ program as well as the growth of Japan's aviation industry through strong partnerships with its suppliers worldwide.


About MRJ
Mitsubishi Regional Jet is a family of 70~90-seat next-generation aircraft featuring the Pratt & Whitney's revolutionary PurePower® engine and state-of-the-art aerodynamics to drastically reduce fuel consumption, noise, and emissions, while offering top-class operational benefits, an outstanding cabin designed for heightened passenger flying comfort, and large overhead bins.
---