MHI Machine Tool Expanding Lineup of Double-Column Machining Centers
-- Launch of the New MV-Bx Series --
・ The multi-machine system can handle various types of machining for a range of industries, offering excellent cost-performance
・ The first two models in the series, with table widths of 1.1m and 1.5 m, are available from September
Tokyo, August 31, 2020 - Mitsubishi Heavy Industries Machine Tool Co., Ltd., a part of Mitsubishi Heavy Industries (MHI) Group, is expanding its lineup of double-column machining centers by launching the MV-Bx Series. The addition of this new series complements the current MVR-Ex Series and offers a product lineup that meets a broader range of machining needs. The new machines accomplish high speed machining that achieves a high-precision, high-quality surface appearance, general parts machining, and light to heavy cutting. The first two models, the MV12Bx with a table width of 1.1m, and the MV16Bx with a table width of 1.5m, will be available for sale from September 1, 2020.
The MV-Bx Series is designed for machining of workpieces in sizes that don't fit on vertical machining center tables (1.0 to 1.5 meters), as well as efficient machining of those that require additional effort with horizontal boring mills due to difficulties with the setup. These machines offer good cost performance as a result of their high efficiency and usability, allowing them to handle all types of machining for a range of industries, from machining of frames and other plate pieces, to heavy duty machining of cast structural components using.
A major feature of this series is its reduced installation space (MV12Bx: 5,425 x 4,196 mm; MV16Bx 6,770 x 4,760 mm). Compared to the MVR25Ex Series (table size 1,500 x 3,000 mm), the MV16Bx has an approximately 40% more compact installation space, combined with a maximum table size of 1,500 x 3,260 mm that enhances space efficiency and cost-effectiveness. These machines also incorporate many widely used general purpose functions, making them easy to use and readily introduced into the workspace. MHI Machine Tool offers, unique to the MV16Bx, an optional attachment for five-face machining.
The MV-Bx Series is highly rigid, with cast iron used for the columns, bed, and other main structural components. The thermally stabilized structure and one-piece column bridge, and a slide guideway on the Z-axis (spindle head vertical movement). The spindle utilizes a gear speed reduction system that allows for a wide range of machining, from low speed, high-torque heavy duty cutting to high-speed, high-efficiency cutting with carbide tools. As standard equipment, the new series also includes DIASCOPE, MHI Machine Tool's proprietary IoT (Industrial Internet of Things) monitoring system. This maintenance service provides operation monitoring and a remote monitoring function ensures reliability and peace of mind.
With the launch of the new MV-Bx Series, MHI Machine Tool's full lineup includes the μV Series of precision machining centers for fine machining, and the MAF Series of horizontal boring mills. Combined, these offer customers the best product match for their machining needs, and contribute to increased productivity.
■Main Specifications of MV-B Series Models
Model
MV12Bx
MV16Bx
Distance between columns (mm)
1,300
1,700
Table
Table work surface
Width (mm)
1,100
1,500
Length (mm)
2,000
3,000
2,310
3,260
Loading capacity (kg)
3,500
4,500
8,000
10,000
Distance from table top to spindle nose (mm)
960
960
Axis travel (mm)
Table longitudinal
(X-axis)
2,000
3,000
2,100
3,060
Saddle crosswise
(Y-axis)
1,200
1,600
Ram vertical
(Z-axis)
760
Rapid traverse (m/min)
X-axis
24
20
20
Y-axis
24
20
Z-axis
20
15
Cutting feed X, Y & Z axes (m/min)
12
10
Spindle
Speed (min-1)
10 - 6,000
Motor output (kW)
15/18.5
(Cont./30-min.)
22/26
(Cont./30-min.)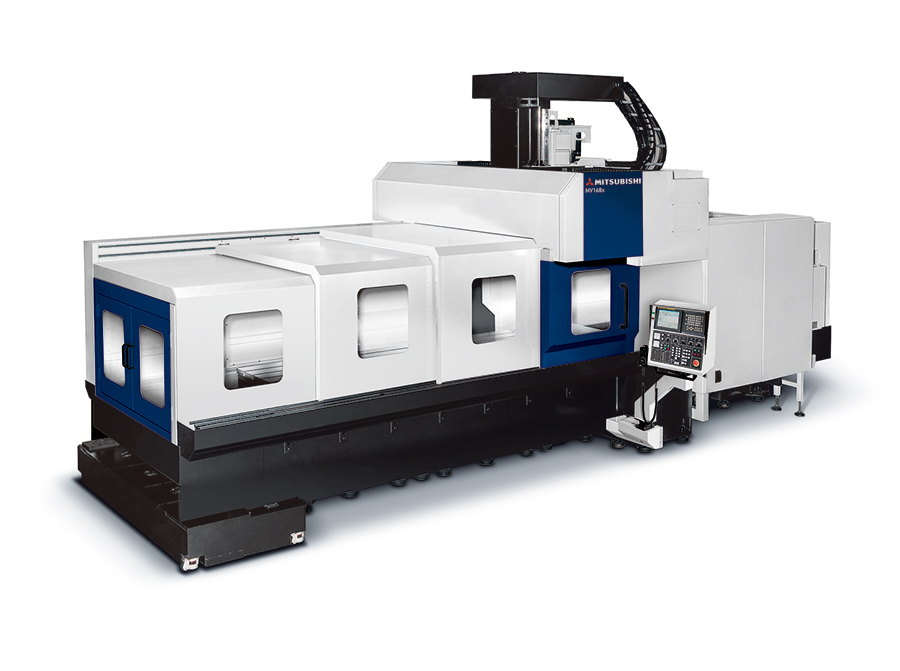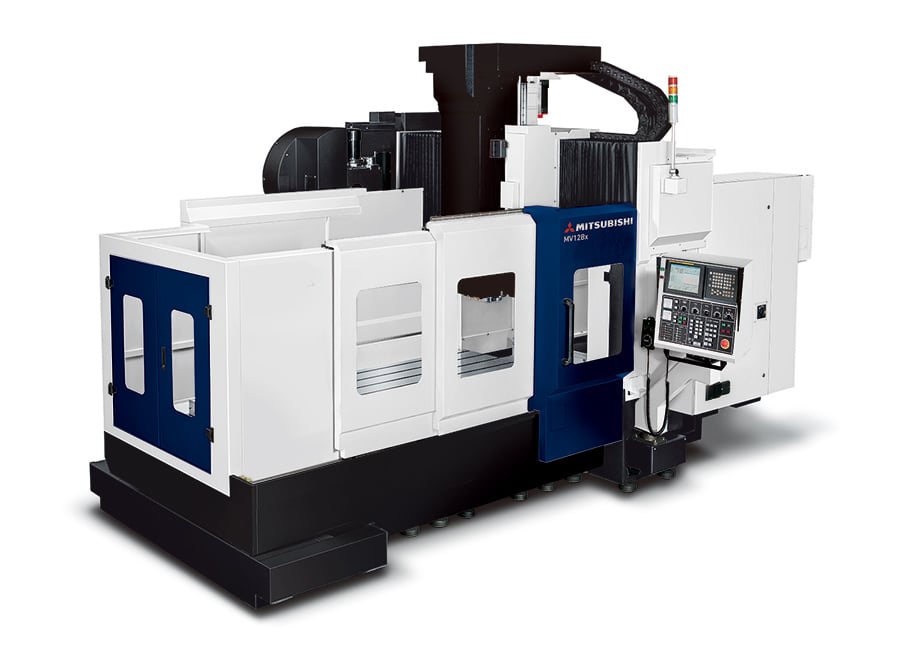 FIXED RAIL BRIDGE TYPE MACHINING CENTER MV-Bx Series
---
---
About MHI Group
Mitsubishi Heavy Industries (MHI) Group is one of the world's leading industrial groups, spanning energy, smart infrastructure, industrial machinery, aerospace and defense. MHI Group combines cutting-edge technology with deep experience to deliver innovative, integrated solutions that help to realize a carbon neutral world, improve the quality of life and ensure a safer world. For more information, please visit www.mhi.com or follow our insights and stories on spectra.mhi.com.